Unified Bocce Is on a Roll
A quick coin toss assigns each team a bocce ball color: red or green. Athletes clad in maroon and gray disperse from their huddle, heading to their courtside seats. The enthusiastic chant, "State Bocce Nation!" rings across hardwood gym floors. A match is about to begin.
Seventeen members strong, State High's unified bocce team brings the heat to each practice and match, proving to be just as energetic as their cheers. The co-ed group of athletes, which wrapped up its fourth season in February, is coached by autistic support teacher Claire Percival and chemistry teacher Doug Schunk. 
Unified bocce, a PIAA sport, brings together general education students and students diagnosed with an intellectual disability to train and compete together as a team for their high school. Unified sports (which currently include bocce, track and field, and soccer in Pennsylvania) are a fast-growing initiative by Special Olympics. State High is one of 91 schools across the state that provide a unified sports program.
Percival brought unified bocce to State High during the 2018-2019 school year after being inspired by a pilot program at neighboring Bald Eagle High School.
"We thought, 'Wouldn't it be cool to compete against some schools in our area?' And Bellefonte started a team, and we started a team, and Bald Eagle had a team, so we were able to compete with some neighboring schools, which was awesome," Percival reflected.
A typical season for State High's unified bocce team consists of two practices each week, several matches against other schools in the area, and district championships, where the team competes for the opportunity to travel to the state tournament in Hershey, Pennsylvania. The usual practice includes a warmup routine, drills, stretching, practicing throwing the pallina and bocces, and a scrimmage to wrap the day up. The team practices under the HUB stairs outside of the performing arts center entrances, and their practice court surface is different from the surfaces of courts they play matches on. Inconsistency of courts is a challenging aspect of indoor bocce, as imperfections in the floor affect balls' directions and speeds.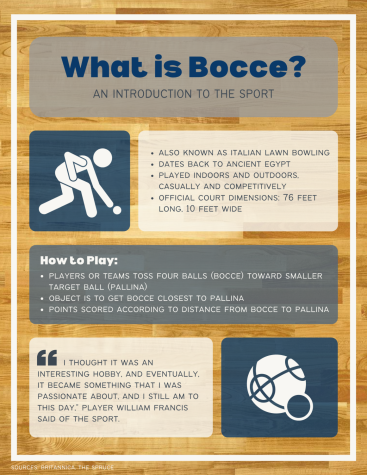 One aspect that sets the unified bocce team apart from other school sports is the way captain positions work.
"We pick different team captains for each match, which is really cool. We really just base [the decision] on how practice went that week, maybe how the previous match went. When someone is showing some leadership skills, then we think about making them the captain for that match," Percival explained.
Another thing that makes the unified bocce team different from other athletics teams is the year-long focus on inclusion. Schunk pointed out that sometimes, he'll see ESPN show a basketball team with a student manager with Down's syndrome, for example, put the manager in toward the end of the last game of the season to make a layup as the crowd cheers. Moments like this are "awesome," Schunk said, adding, "But here, it's not just a moment. It's a season."
As a relatively new program at State High, unified bocce is still figuring out its place among the school's extracurriculars. Currently, the team is categorized under neither clubs nor athletics. This murky water causes them some logistical challenges (for example, the team must pay for their own transportation) because unified bocce does not enjoy the privileges afforded to school-sponsored clubs and athletic teams. The program is, however, sponsored by Special Olympics, which covers the costs of a court, equipment, and uniforms.
"Something that we've struggled with is kind of where we fit under that umbrella," Percival explained. "That's our goal—to be recognized as either a club or a sport. It would just make our lives a lot easier."
An additional challenge on the coaches' side has been adjusting their coaching style during matches. Per Special Olympics rules, unified bocce coaches may not give feedback and advice to their players during gameplay. Thus, Percival and Schunk spend their time during matches on the sidelines, cheering on their players.
"We try to do the coaching during practice so that when we get to the matches, [the players] know what to do, they understand what to do, and they just have to execute it," Percival said. "They have to figure it out as a team, and we have to step back as coaches. And that's something about unified sports that is a little bit different and something that I wasn't really expecting. It has been a challenge."
Though letting go of typical coaching duties during matches has been an adjustment, Percival and Schunk have been impressed with how well the athletes step up to communicate and work together on the court.
"[My favorite thing about working with the team is] to see how every student interacts with each other. […] Just seeing how great the partners are at interacting with the athletes," Schunk, who joined the coaching staff in 2019, said.
The athletes' cooperation helps build team spirit and a fun, supportive community where players are both teammates and friends.
"I think it really has been powerful just to see some of the relationships that these students have built with each other that wouldn't have been possible otherwise," Percival added.
Senior bocce player Kylie Ehrensberger agreed with Percival's sentiment. Bocce has introduced Ehrensberger to friends she would likely not have met without being a part of the team.
"I think [participating in bocce is] just being a part of the school at a bigger amount because I don't see many of the teammates in a normal school day, but then at bocce practice, we interact with each other and I think it just makes the school more inclusive as a whole, which I think is something we should continue to strive for," Ehrensberger commented. "I think it's a really inspiring team to be a part of."
The team builds community by having pizza parties, playing games, and doing icebreakers before practice. 
"One of the best memories I can remember was back in pre-COVID when we had a banquet," grade 12+ student and bocce player William Francis recalled. "And me and a bunch of other teammates came together and we had this huge party. That was one of the best moments I could ever imagine."
Team spirit can also be seen in the way the athletes always cheer each other on. One cheer, in particular, has become synonymous with the bocce team: "State Bocce Nation!" The chant originated when one of the athletes said it, and it instantly caught on. Now, these three words are also the team's hashtag on social media. "We've just kind of run with it," Percival said of the cheer.
The players have high praise for the team's positive atmosphere.
"[The sense of community on the team is] so good. Everybody's just here to have a good time. There's no pressure, like you can miss a shot terribly and everybody will still cheer and motivate you because we're just here to have fun and do our best. And if your best isn't too great that day, it's perfectly fine," Ehrensberger remarked.
Additionally, Jason Chang, senior and player in his first season of bocce, described the team environment as "positive and encouraging."
On and off the court and in victory and defeat, the players' goal is to compete and bring out the best in each other.
"We celebrate the wins and the losses, to be honest, and we look at what positively happened and we focus on that rather than any negative outcome that could have come," Ehrensberger commented.
Sportsmanship, an attitude of determination, and a supportive community are all Percival could ask for in her team.
"It's really all about learning about teamwork, learning about good sportsmanship, and all of those things," Percival said. "If you don't win, how do you lose gracefully? How do you be a good sport about it? […] I feel like [the team has] been super supportive of each other, really good coaches for each other, and really step[ped] up. In the matches, I just watch them communicate with each other and they do a pretty darn good job."
Though the unified bocce team sees the good in each match, wins and losses alike, they do, needless to say, enjoy a well-earned victory. Looking back on the 2021-2022 season, one highlight was the team's triumph over the defending state champions, Bald Eagle High School, in their first match of the season on Jan. 21, 2022. State High and Bald Eagle are competitors of comparable ability, so the win was "a good solid confidence boost," according to Percival.
Francis described the victory as "shocking but relieving because Bald Eagle, in the past, has been a pretty tough team to compete against, so it was kind of relieving to have that satisfaction."
The State High Unified Bocce team consists of two teams, Maroon and Gray, and at the Bald Eagle match, Maroon competed against Bald Eagle, and Gray played a consolation match where the results did not have any effect. Ehrensberger was in the Gray match, and recounted how her whole team was paying attention to the exciting events happening on the other court. As a result, Gray's match did not go well. However, Ehrensberger's team found it a worthwhile sacrifice to focus their attention on their teammates' successes on the nearby court and get to celebrate alongside them.
"They would get a ball in and we would just go crazy, standing up off of our chairs," Ehrensberger recalled, describing how her team reacted to moments of Maroon's match. "It was so fun. We were cheering like crazy, and then Kara [Weitzel] got the shot at the end that just knocked everything into place—it was awesome."
With such energetic and encouraging team dynamics, it's easy to see why the coaches and players state that their favorite part of being on the team is each other.
"Being able to make connections," Chang stated as his favorite thing about the team. "I think that most of us get along well on a personal level, and I think it's pretty nice that we're not just teammates, but also friends."
Percival shared a similar perspective. When asked what her favorite thing about working with the team is, her response was immediate: "the people." Coaching unified bocce has allowed both Percival and Schunk, who did not know each other prior, to step out of their classrooms and meet each other, as well as students they would not typically get to work with during the school day.
"For me, [coaching the team is] kind of an opportunity to get out there a little bit [and] meet some new kids," Percival said. "And just to see them compete, and care, and do their best, and be happy with how they do—to me, that's what matters."