Orientation Opening the 2022-2023 School Year
To kick off the 2022-2023 school year, a new practice was introduced to refamiliarize all students with the expectations and propositions of high school. Orientation took place for the first three days of school and was organized by State High administrators who took in feedback from the previous year to help improve and clarify the overarching ideas in coming back to school.
"I think orientation has been great, it's been a great way to kind of ease us into the year. The delayed schedule kind of gives us just some flexibility with getting students back into the swing of things and having a consistent message that's being presented," said Tyler Constable, an algebra and precalculus teacher who led a group of juniors through the orientation activities. His take was similar to that of many adults; happy about the tone set for this year.
A unified message presented for the whole school was missing in previous years. At the head of this vision was school principal Laura Tobias, wanting to reach students in four distinct ways; reiterating rules and expectations, post-graduation ideas through the Xello program, an introduction to State High clubs, and most importantly the class meeting. Whether or not all the aspects presented were helpful or intuitive is up for debate, but regardless of the impression orientation left, Laura Tobias was enthusiastic in its planning and its effect on students.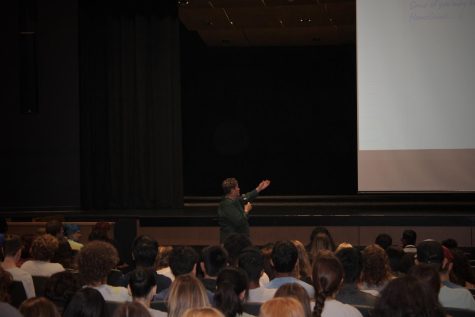 "As someone who has been in education for a very long time, I'm about students. I was a student council advisor, I was coaching, I was a teacher, so I was like, I need [students] to know me. I'm here for you. If they have a problem, if they want to fix something, they want to change something in the school, we have to have a working relationship so they have to know me," Tobias said. This is part of her vision in helping students through the year, hoping to really promote a positive and productive State High community.
The goal of the class meetings was to gather each grade level together for the first time officially since the strike of Covid-19. Events like the class meetings are something the administration hopes to encourage in uniting the student body.
"I want students to create fun events. I want there to be those homecomings and pep rallies, and fun creative [activities like] Lift Every Voice. Those kinds of activities in our school make your high school experience rich and happy […] that's what we want kids to leave with," Tobias continues, and the majority of students agree.
"The class meeting, it was helpful to see all the officers. That's the one part I really liked about it–seeing all the Peer Advocates and the SPIRIT leaders," said junior Addison Hart. With all the different leaders in each different grade that act as liaisons between students and administration, class meetings helped serve as an introduction to all the different hats worn in the school. Feedback from the Spirit Council, Student Government, Student Senate, and the Peer Advocates of each respective grade was used to help create this transition back to school.
For returning students coming back to the high school after experiencing the events of last year, much of the information presented (such as rules and expectations) were nothing new. Although it served as a good reminder, perhaps it was a little too lengthy.
"I think students were overall really receptive to [orientation]. I think when you take a step back and look at everything and get feedback, maybe the first day was a little long," said Tobias. In total there were four hours of orientation, two allotted to the first day, and one hour on each of the following. Originally, administration thought there would be four days of school in the first week, but that additional day turned out to be a teacher inservice leaving an extra hour floating around. Next year, it sounds as though this extra hour may be absolved.
Overall, Tobias summarizes orientation as: "Having everybody on the same page rows the boat in the same direction.The teachers loved it some of the students said, 'that was really great, thank you so much, that was really awesome we love being together with you!'"
This school year orientation will bring or at least encourage a few changes for the students of State High. The first notable being removal of SLC (student learning community) homerooms.
Last year, there was overwhelming feedback from students and teachers commenting on how homerooms felt like a waste of time. It was decided that homerooms would no longer be grouped by SLC, but rather simply having an extended second block to talk about in-school reminders or distressing events. Instead of having students in the traditional homerooms to go over guidelines, orientation replaced that, having students alphabetized and grouped by name.
Another takeaway repeated throughout the first three days was showing up to school and the expectation of better attendance. When asked why attendance was an emphasis of this year Tobias described how, compared to other years, last year's attendance was not stellar.
"I think last year, last year had this different vibe. Everybody was in masks, Covid — I mean we still have Covid, it's not going away, we know this — but it was a little lackadaisical as far as … know[ing] if kids wanted to be in school," she said, explaining the dip that resulted in many unexcused absences. This year, attendance will be stricter; encouraging students to turn in notes for absences and reduce class skipping.
More of last year's shortcomings identified in the weeks of planning for orientation were the biggest corrections hoped to be seen for this year. This includes the confusions of last year's lockdown procedure and many behavioral transgressions that were addressed in the rules and regulations presentation and again in the class meetings.
Clarification to last year's lockdown was a repeated point. The confusion of what to do in this type of emergency led to different practices taking effect all throughout the school, causing unneeded panic and fear. Some teachers were barricading classrooms while others were still teaching as normal. Making sure all staff and students know now that lockdown was not used in regards to threats of violence in the case of last year was a very important act moving forward.
Part of the reflection of last year also included the fair share of fighting that broke out and how that can be improved to make sure all students feel safe.
"I think in taking feedback again from our SPIRIT counsel that came to the school, our student government, student senate, seeing and looking at data–our discipline data–we felt like 'I needed something to change'," said Tobias. This is why many of the rules were recited by administrators in the rules and expectations presentation to try and connect more with students and again when all students gathered together for the class meeting. While these presentations may be viewed as monotonous, the school hopes it will serve as a good reminder for the consequences as well as the expectations in accordance with the updated student handbook.
The final hope for orientation is that it encourages students to become more involved with their State high community–mainly through clubs and extracurriculars.
Tobias explained this push as, "There was a percentage of our student body that's not involved in their home community… and with the number of clubs we have [it's like] wait, why aren't people connected in some way in something that they are interested in?"
While clubs did have a short introduction with a video on their importance and a google form in the time during orientation — turning student attention to their possibilities — an upcoming activity will also help with this. The club fair has returned and will take place during all lunches from September 6th to the 9th. This paired with some of the information orientation brought will hopefully bring more students into a positive high school experience and connection to their community.
Several mantras have been repeated throughout the beginning of school like this year's theme: "Unity is key in 2022-2023", State High is the home of the little lions, and how this will be a year of high expectations and high support. Although these cliche phrases are slightly corny, they mean to set the tone of an official fresh start. How the ideas presented in the first week of school and opinions on its execution will affect the rest of the year is something that remains to be seen.