The Centre County Grange Fair: A Family Tradition
Every August, Centre Hall hosts the Centre County Grange Fair. This year the fair was held from the 19th to the 27th and many members of our State High community attended to soak up the end of summer. The fair includes rides, concessions, animal shows, livestock contests, concerts, a playground, and a parade, making it a great way for extended family to come together and spend some quality time. 
"One memory that I will always remember and think about is when my grandpa would take all the grandchildren and great-grandchildren and walk around the animal barns with them," says State High junior Hannah Unger. "He did it every year up until we became teenagers. I miss the walk with him every year."
Not only is the Grange Fair a great place for family fun, it is also a farm fair where many State High students exhibit their farm animals. 
Sophomore Katie Ripka holds officer positions in both 4-H (a youth nonprofit) and Future Farmers of America (FFA) and participates in such exhibits through them.
"I show market rabbits, market swine, breeding, and market lambs. These projects start in about Mid-April and help teach me many responsibilities, [ranging] from money management to treating sick animals," explains Ripka.
Another big part of the fair is camping. People settle down for the week with their families and camp in tents and RVs. These tents are passed down through generations for those continuing to attend the fair. 
Unger shares, "My favorite [activity] is hanging out [in] my camper with my friends. There's never a day where we go without laughing until our stomachs hurt."
There are also daily visitors who do not camp and simply come to enjoy the attractions such as the Grange Fair Parade which took place early afternoon on August 25th. For the parade, marching Bands around Centre County come together.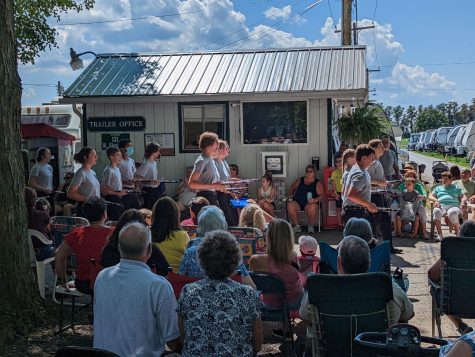 Hannah Unger contributes as part of the State High Dance Team.
"I love hearing my whole family and friends cheer for me, and the reactions to the size of our band since we are the biggest in that parade," she says.
Attending the Grange Fair is a wholesome tradition for families that kids, including State High students, hold very close to their hearts.
"I do not know what I would do without the Grange [Fair]. It's something I look forward to all year, from the food to the community that has been built around me. [It] helped me grow as a person over the years," reflects Ripka.
Next year the fair will be held from August 18-26, 2023. Visit grangefair.com for more information.