Harry Styles vs Beyoncé: Who deserved the win?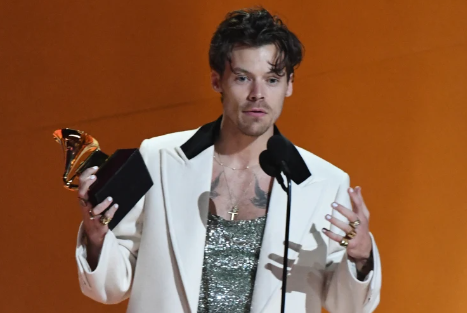 When reflecting upon the results of the 65th Annual Grammy Awards, shocking is a word that comes to mind for many.
One of the most controversial events of the night was the Album of the Year Award, which went to Harry Styles for his pop album entitled Harry's House. This album came out on top over Beyoncé's seventh studio album Renaissance, which is a blend of multiple genres of music, from disco to R&B. The surprising outcome of this award has brought up the thought: did Harry Styles deserve to beat Beyoncé? 
Grammy audience members loudly expressed their answer to that question by interrupting Styles's acceptance speech in support of Beyoncé. "Get off the stage!" and "Beyoncé should've won!" were called out in protest of Styles' receiving the most prestigious award of the night. 
This wasn't the only controversy surrounding his acceptance speech. The musician closed off his speech with "This doesn't happen to people like me very often and this is so, so nice." This last line was criticized for a multitude of reasons. One being how tone deaf the statement was, especially with nominees of color in the audience such as Lizzo, Bad Bunny and Beyoncé. Styles is the 33rd white male to receive the Album of the Year award, and a black woman hasn't received this award since 1999.
Furthermore, the circumstances of this year's Grammys make the insensitive comment sting even more. Three songs from Beyoncé's Renaissance were awarded, but still the album did not earn AOTY. This year was Beyoncé's fourth time being nominated and defeated in this category. Although music is objective and different people may prefer different types of music, the pattern is clear. Both historically and statistically, people like Harry Styles often do receive these awards over people of color. 
Although both Renaissance and Harry's House are in the same pop genre, the two albums couldn't be more different. This is Style's third studio album, yet it still remained very safe musically. Simply put, the album consists of generic pop music that doesn't bring anything new to the table. In contrast, Beyoncé's Renaissance album was innovative, creative and pushed the envelope more than Styles' did. The album was a genius blend of Black dance music styles, from house to R&B. 
Seth Trout, a junior at State High echoed this message. "I just don't think Harry should have won," Trout said. "It's not that Harry's music is bad, I just think that his music doesn't resonate with me like Beyoncé's does."
Lanie Herlocher, a sophomore, shared a similar sentiment. ¨While I think that Harry is great, I do think that Beyoncé will always be better. Harry deserves to win an award, but not an award over Beyoncé. Beyoncé is the one and only." When asked what sets Beyoncé apart from Harry Styles, Herlocher answered, "You can say her first name and everyone will know who she is. You can't do that with Harry." 
When comparing albums, Renaissance undeniably has more longevity compared to Harry's House. Beyoncé is a household name known and listened to by all ages, and has songs from the early 2000s which are still popular today.
Ella Doby, a freshman at State High, resonated with this point. "I think that Beyoncé overall is more deserving of this award. She has been around for longer and has been more successful for longer. She has put in more work than Harry Styles has. He is more of a recent artist, an artist who is very to his generation. Beyoncé is very versatile and is enjoyed by those of all ages," she said.
Although both Styles and Beyoncé have worked incredibly hard in the music industry this year, it is important to consider the traits of an album that deserves the AOTY award: a release that brings something new and exciting to the table, and has a song for everybody.