Just a Bunch of Goons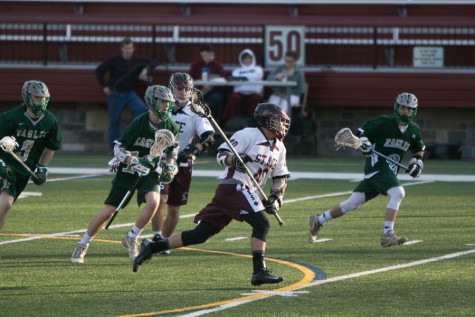 Junior, Felix Sanchez, State High lacrosse player, took up the sport only in 9th grade. Despite having little experience beforehand, his lacrosse skills have grown as he has made friendships and learned to love the sport.
     Felix has been playing baseball since the fourth grade. When he moved to State College from Chicago before eighth grade, he wasn't sure what baseball teams were available to him so he decided to take a year off. When freshman year came along, Felix was given the opportunity to participate in three diverse spring sports, lacrosse, track, and his original favorite, baseball. He said that baseball  started to become a bore to him and he wanted to try something new. "Lacrosse seemed appealing to me and I thought I'd give it a shot," said Sanchez. 
     Lacrosse tryouts rolled around and the first time he had picked up a lacrosse stick was the day before tryouts. In all probability, he  had the least amount of experience compared to everyone else there. Sanchez admitted that he wasn't very good at all, but somehow he made the team. "There must've been something in me that Coach King liked (other than his lacrosse skills," said Felix.
      The season officially started and Felix switched from playing offensive short stick to defensive long stick. He and his coaches could both see the quick improvement that just a little bit of practice can achieve.
     Not only were his lacrosse skills improving, he also started to make friends within the team as well. Freshman year, he and his friends Andy Mater, Rian Scanlon, Robert Hort and Ryan Romero formed a "clique" known as the "Goon Squad."  The group was formed when they noticed during their freshmen year of lacrosse that they were always warming the benches of varsity games and only played in the last quarter. This continued throughout sophomore year except with a little bit more playing time.  "We're just a bunch of goons," said Sanchez. The Goon Squad has such a unique bond that they even try to socialize outside of lacrosse.
     As the lacrosse season is beginning to come to an official start for the 2016 year he is preparing physically along with his team members. "The team and I work very hard in the weight room and on the field at practice" said Sanchez.