Rachel Wylie Hurdles Through Life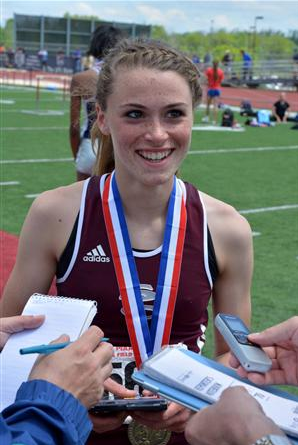 Rachel Wylie does it all – she has a job, gets good grades, and holds the school and district records in the 300 meter hurdles, 100 meter hurdles, and 4×100 meter relay. Sophomore year, she took seventh at States in the 100 meter hurdles with a time of 14.9 seconds. I sat down with her to ask a few questions about how she does it all.
Q: What is a typical school day for you?
A:
7:15-8:00 Wake up, eat breakfast, drive to school
8:00-3:15 School
3:15-6:00 Track practice
6:00-7:00 Dinner, hang out with friends
7:00-9:30 Homework
9:30-10:00/10:30 Shower, read
10:00/10:30 Sleep
Q: Do you eat a certain way and does it help your track career?
A: I have a relatively strict diet, especially before meets. I like to eat a lot of fresh foods, like fruits and vegetables, and stay away from processed foods. I also recently became a vegetarian for environmental reasons. Staying away from meat makes it hard to get enough protein and have enough energy for races, so I have to work on balancing my lifestyle out with my running. Before meets I don't eat anything really sugary, fatty, greasy, or heavy. I also try to stay away from sugar and dairy most days. I like to think this diet helps me run faster because it is pretty clean and natural.
Q: How do you balance school, a part time job, and sports?
A: I have to prioritize my activities, and sadly sometimes that means that I can't focus on school as much as I would like to. For me, running and sleeping are tied for my most important activities. I always make time to get a run in, and make sure to get at least 7.5 hours of sleep every night. When I finish running, I have to work efficiently to get my homework done in time to sleep. I had to cut my hours at my job to strictly Sunday so that I didn't miss any meets or practices.
Q: Are you planning on running in college?
A: Yes I am planning on running in college, but I don't know where or at what level yet.
Q: What advice do you have for young hurdlers or runners?
A: Always remember to stay focused during training and outside of practice. It's almost impossible to achieve your goals if you don't put in the work. I also encourage setting really big goals to continuously strive for, but also setting many small goals that can be reached quickly and used to propel you towards fulfilling your bigger dreams. Lastly, never forget why you run, and what you love about it; it becomes a lot harder to improve in hurdles if you put too much pressure on yourself and stop enjoying yourself.
Picture Courtesy of Girls Track & Field Website