Footprints Around the Globe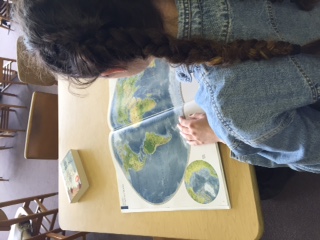 Many students are interested in spending a high school year or semester abroad, but simply don't know where to start.  Here is a some tips and resources to use while on the hunt to find the best experience for you!
Talk to your family
Arguably the most important step in the whole process is to get your parents on board with the idea.  When bringing up the topic of studying abroad, be prepared for a variety of responses.  Your family might be immediately supportive or skeptical.  Be receptive, understanding, and flexible.
Choose your country
Perhaps one of the most difficult steps in deciding to go abroad is choosing where.  There are programs that send students to Europe, Asia, Africa, Australia, and both Americas.  This overwhelming spectrum of choices requires great thought and consideration.  Is there a certain language you want to learn?  A particular climate you want to live in?  A specific culture you want to explore?
Explore the programs
Although there are dozens of programs you can choose from to go abroad; the two most popular among students at State High are Rotary Youth Exchange, and AFS.  Research reviews, costs, possible destinations, and scholarships.  Find a program that includes some of your preferred countries.
Begin the application
This step is as simple as it sounds!  Contact your program of choice and begin the application process, which often entails paperwork, essays, medical records, and an interview.  If you are applying for scholarships, they may include prompts that you must respond to.  As you work through the application, meet with your school counselor to discuss your year abroad and how to go about receiving credit.
Become inspired by some State High students spending their 2016-2017 school year abroad.  Here is what they have to say:
Jackie Feffer
Departure/Return: September 5th, 2016 – May 26th, 2017
Program: SYA
Location: Zaragoza, Spain
Why did you want to study abroad?
It would be really cool to become immersed with another culture.  I think it would be a really good way for me to become independent being the youngest of five because it's very easy to become overshadowed by my siblings.  I'm hoping to take some cooking classes, some salsa classes, and I'm going to play soccer there.  I just really want to find out what my passions are.
Why did you choose Spain?
I chose Spain because I took AP Spanish last year so I'm supposed to be nearly fluent in the language.  I think it would be really cool to become fluent and be able to speak it normally without pauses.  I love the Spanish culture and the architecture and the dancing and the food.  I just think it would be really cool to immerse myself in the culture for the year.
What are you most excited about?
My favorite class that I think I'm going to take is Spanish cinema.  All my classes are going to be in Spanish.  The culture just fascinates me so I'm excited for that as well.  
What are some of your fears?
It hasn't really hit me that I'm going away.  I still have five months before I leave.  I'm more excited than nervous at this point.  
David Wagner
Departure/Return: September 2016 – July 2017
Location: Germany
Why did you want to study abroad?
I wanted to see the world but not from a tourist standpoint.  I want to see how other people live in other parts of the world and cultures other than my own.
Why did you choose Germany?
Germany is kind of a hub for banking and business and I would like to learn the language.  And also my family came from Germany so I'd also like to connect with my heritage.
What are you most excited about?
I'm most excited to be able to interact with people to learn about another culture firsthand and to get to experience life like a native member of that culture.
What are some of your fears?
I'm afraid of what they call "culture shock" where I'd be in another country and some of the customs might be so different from the US that they might be so difficult to adapt to.  I'm also nervous about trying to take classes in a foreign language because I don't speak German and presumably that would be very difficult for me.
Ann Sepich
Departure/Return:  Mid August – Mid June.
Program: Rotary Youth Exchange
Location: Australia
Why did you want to study abroad?
I wanted to study abroad so I could learn more about another culture and broaden my perspectives. I know a lot of people who have studied abroad. They all loved studying abroad and said it was a good opportunity. I want to have the experience they talked about myself.
What are you most excited about?
I am excited to try new things and meet new people. I'm enthusiastic to learn more about myself. I'm hoping I can learn how to surf or learn a new sport.
What are some of your fears?
I'm generally just nervous about the whole year, but I know whatever goes wrong can be fixed. Rotary gives you a lot of support. There are a lot of people in State College and in Australia that are willing to help me when I have problems over my exchange year.
Kate Atwill
Departure/Return: August-July
Program: AFS (YES Abroad)
Location: Jordan
Why did you want to study abroad?
My brother did it and my dad did it and they said it would be a good experience.
Why did you choose Jordan?
Since I take Arabic, Jordan works.
What are you most excited about?
Learning the culture and a culture other than the US culture.
What are some of your fears?
Not being able to speak to the level of the people there.
Arshia Badani
Departure/Return: August 2015 – June 2016
Program:  AFS (YES Abroad)
Location: Skopje, Macedonia
Why did you want to study abroad?
I want to study abroad because I want to allow myself to grow and learn the most I possibly can. While my education at State High has been nothing short of outstanding, I have found that I learn best when I can explore on my own, which is why studying abroad suits me. Along with that, the opportunity to live and integrate into a foreign culture is something that I really value, and am excited to have the opportunity to do.
Why did you choose Macedonia?
I chose Macedonia because I have never been to that area of the world before, and therefore do not know much about the Balkan region of Europe. Also, Macedonia is a great mix of cultures, as it is European, but also Muslim, and has a lot of refugees.
What are you most excited about?
I am most excited to live in a totally new place and be surrounded by countless opportunities to learn the culture and integrate into my community.
What are some of your fears?
My biggest fears are trying to do college applications abroad, and missing my family and friends.