Taught to be a Teacher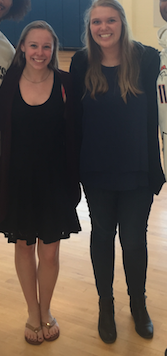 An elementary school teacher is a rewarding career if you love children and want to help them succeed. Many say that it is more than a job, that it is a passion or calling. Being a teacher isn't a nine to five job with the summers off. It takes a whole lot of patience, creativity, skill and extra hours to be an influential teacher. As a part of the Early Childhood Education and Diversified Occupations programs at State High, two seniors have had the opportunity to observe and assist in an elementary school classroom at Mount Nittany Elementary. Seniors, Courtney Stidsen and Sydney Gabel are getting valuable experience and getting lots of hours under their belts preparing them for their future careers.
To be a teacher having a diverse set of qualities is important. Being energetic, motivated, and having the ability to think fast on your feet are qualities that come naturally to Sydney Gabel. This year she has worked in kindergarten, fourth, and fifth grade classrooms. Gabel hopes to become a kindergarten teacher and has a knack for bringing a creative high energy to the room. She will be attending Penn State Erie in the fall. Kids are a breed of their own and an elementary school is nothing short of entertaining and amazing. "I want to be able to inspire young minds and help shape their futures. I have learned through my experience that I do want to be a teacher and I am ready to do it," said Gabel.
Coworker and friend of Gabel, Courtney Stidsen is a part of the same program and working at Mount Nittany Elementary as well. Stidsen has worked in kindergarten, first, and third grade classrooms. "I work well with children and I want to inspire them to learn," said Stidsen. Maintaining her positive attitude, being patient, and having lots of energy makes for a successful experience. Taking advantage of the programs and employment opportunities is a valuable asset." These classes have helped me prepare because now I know what I am getting myself into and how a classroom works. It gives me a better understanding of basically everything. Diversified Occupation has especially helped me learn how to do things that I need in the future like taxes, understanding moving costs, and even credit," said Stidsen. She will be attending Bloomsburg University in the fall to study education.
If growing up together, working together, and going into the same field isn't enough it is clear that both Stidsen and Gabel have gained valuable experience through the work experience programs at State High and know that they have what it takes to be a teacher. In a sense the girls have made it full circle. It takes a lot to be a student and in a different ways a lot to be an educator. Yesterday they were students, today they are going to graduate, and tomorrow they will be the teachers.