Feature Drew Spielvogel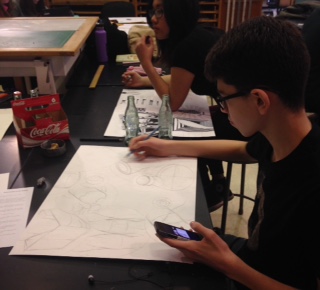 A Hidden Gem
Most people at State High know about our art program- displays in the hallway, art shows, and lunches with the artist help us to show it off. But not as many know just how good the artists can be. Drew Spielvogel, a freshman here at State High, is the recipient of several national awards, including gold and silver medals from the Scholastic Art and Writing award, and the Top Ten Distinction from the Celebrating Art Contest three years in a row.
Spielvogel was encouraged to start drawing by his grandfather, a photorealistic artwork collector who wrote a children's book called The Awesome Adventures of Alice Marie von Bugaboo and her Unusual Family. Drew illustrated the book as a fifth grader.
He stated that the best thing about the art world is how supportive it is to aspiring artists, while the worst thing is the pressure on artists to create something that appeals to the art world instead of to themselves. In The Bloomsbury Companion to Aesthetics, they wrote that the "epidemic of mass appealing art" is "an aesthetic desert" and "artistically inferior". Spielvogel tries to give the art he creates diversity and character to counter the mass art movement.
Most of his art is charcoal, but he also likes other mediums like oil paint and pastels.
His favorite artist is Chuck Close, a painter who manages to create contemporary hyperrealistic art through paper and fingerprints even after he was paralyzed in 1988.