Bring on the Bagels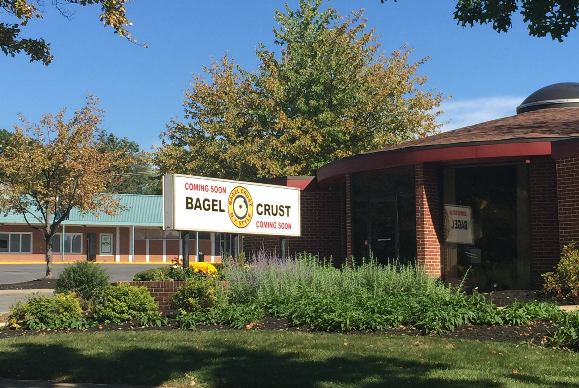 Just because you don't have a car, doesn't mean you have to miss out on your morning bagel and coffee anymore. Forget Dunkin' Donuts and Starbucks; Bagel Crust is coming to Westerly Parkway early this October. Bagel Crust will open at 7am every morning, and the menu includes bagels, such as their famous rainbow bagel, sandwiches, omelettes, and more. Coffee, lattes, and cappuccinos are also featured on the coffee menu. There will be seasonal bagels such as pumpkin spice and the addition of frozen yogurt and smoothies at the new location. As the shop's popularity grows, so does its menu.
Bagel Crust started in 2014 when owner Al Rusinque's oldest son got accepted into Penn State. Rusinque was inspired by a job he held at a bagel shop when he moved to the United States 20 years ago. The first shop was a great success among the college students, which led to the opening of the location near the high school.
There will be plenty of seating, both inside and outside. Crowds are anticipated but Rusinque believes that they are prepared for the morning rush.  However, Bagel Crust is still hiring help. Rusinque said, "I think that it's important for students to know we will need high schoolers to hire and there will be a student discount when school ID is shown."
Many students still enjoy the original downtown shop, including sophomore Shant Kervandjian. "It's delicious. They know how to do it right," said Kervandjian. Senior Baylie Cameron stated that Bagel Crust on Westerly Parkway is "a great idea that will really increase the company's profits." However, Cameron also thought "The lines will probably be long and traffic will be worse, so you should plan to go early if you want to make it to school on time."
The store is set to open by the first week of October, but State High students have been anticipating the grand opening for quite some time now. "I can't wait for it to open. I've been waiting for six months," said senior Lamar Doss. Even late-risers are enthusiastic to see the doors open. Senior Samantha Myers stated, "I don't know if I'm willing to get up early enough to go before school, but I'd definitely check it out after school." It's clear, State High is excited for Bagel Crust!