Give Them A Break!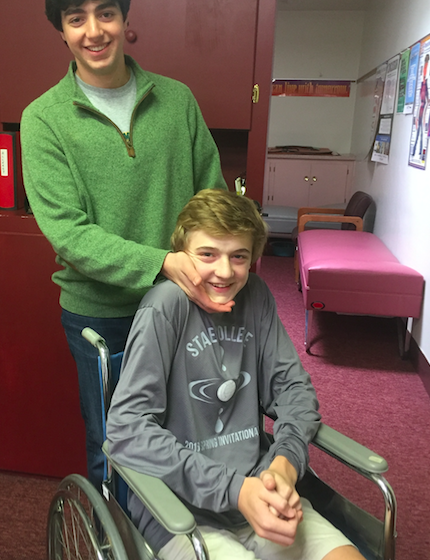 In 2014, the NSC surveyed about 2,000 people and 66% said they put safety before their productivity outcome. Although that is over 50%, there is still 33% that do not put safety before their productivity. Summer is a time for fun and making memories for students but that can sometimes end with a risky result and ruin student's easy ways around for transportation during the school year.
Junior Mitchell Etter is currently experiencing this issue. Although some may think that injuries during school construction has a very negative impact, Etter keeps his head high and maintains a positive attitude. "I love using the elevator, it is so much more convenient than the stairs," says Etter. Etter talks about how his transportation plans have changed, he affirmed they did, but did not hit his expectations. "I thought it was going to be much harder than it actually was, getting around has not been difficult. I whip my scooter around so I get places a lot faster and if you smell something crispy in the hallway, it is not from Culinary Arts, it is me shaking and baking my way through the hallway on my scooter." Despite Etter's favorable approach towards his injury, Sophomore Tanner Brandimarte has more of a cynical response to his. "I am in a boot for about a month and it's been very difficult already. The rocks especially have been the worse, that hasn't been easy or fun to cross over," says Brandimarte.
Particularly, this is affecting athletes especially. "My Cross Country season was cut off in the middle of my third race and I will not be able to return this season. It is also likely that I will have a slow start into Indoor Track," says Etter. Relating to Etter, Brandimarte also says how he has already missed a few weeks of football with many more to come.
Safety rules are frequently overlooked. Injuries are hard enough already, but school construction sure doesn't make things any easier. Recovery and attitude holds together your end product!