Homecoming as a Majorette
Fall is exciting at State High, getting settled into new classes and meeting new people, especially the busy week of homecoming. The parade on Thursday, the football game on Friday, and the dance on Saturday. A fun week for most and especially everyone participating in the parade, like freshman majorette, Hannah Donnell.
In the parade the majorettes walked alongside the State High marching band just like in practice. Donnell talked about getting acclimated to walking while twirling, "It definitely takes a lot to get used to walking along a road twirling with the marching band." The band and majorettes practice Mondays and Wednesdays from six o'clock to nine o'clock. "During our evening practice the week of the parade we actually go around the parking lot practicing our form and routine when marching. But, once you do it for the first time it gets a lot easier," Donnell said, "for the State High Majorettes it usually takes us around one to two weeks to perfect a routine." Hannah has been twirling since fifth grade so she is used to the motions and also competes in a competition team.
"Right after school on Fridays we all meet in the North girls locker room and get ready together. We have until 5:00 to be on the line for inspection. During inspection they make sure we have all parts of our uniforms on." The State High Majorettes uniforms are composed of black gloves, hair pieces, a "showstopper" uniform that is black, maroon and silver, "with a lot of sparkles." Donnell said, "before we go on the field for halftime we practice our halftime show in the parking lot." Just like any dancer or athlete, it can be stressful before competition. "Before we perform it is a little nerve wracking just because you are performing in front of many people that you know, and just a lot of people in general. I personally get scared I am gonna forget my routine, or drop my baton."
Being a freshman in general can be scary at first but joining a club or activity is a good way to get into the school spirit and meet new people. "At first, being a freshman was a little nerve wracking, but after a few practices it became a lot of fun. You get to represent you school and the activity you love!" said Donnell. "Overall, twirling with State High is a wonderful experience and I would definitely recommend it to anyone who would like to try something new!"
About the Writer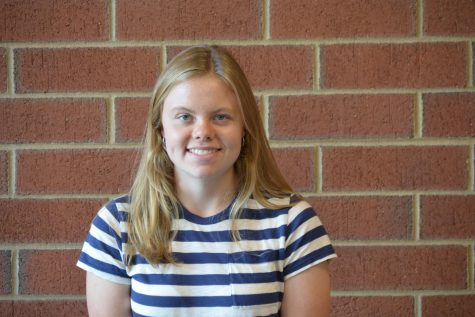 Grace Roeshot, Online Newspaper Editor-in-Chief
Hi, I'm Grace and I'm a senior at State High. I enjoy cooking, biking, and finding new artists to listen to. I  joined journalism to sharpen my writing...