Fifteen Years After 9/11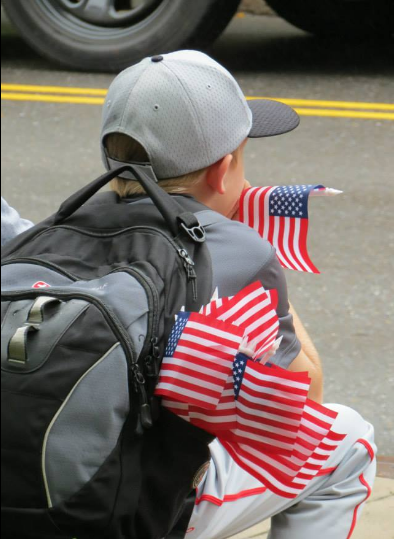 "What separates us from the animals, what separates us from the chaos, is our ability to mourn people we've never met." -David Levithan
Fifteen Years After 9/11
—————————————————————————————————————————-
On a typical Tuesday morning, fifteen years ago today, students were in school, parents were at work, people were at the gym, others in a library, some were still probably asleep. However, no matter where you were in America, everyone remembers what happened when tragedy struck on September 11th, 2001. It was announced early that morning that a plane had hit the twin towers. New York City was more chaotic than it had ever been. The devastating attack left us with roughly three-thousand dead, and six thousand injured, but the the biggest scar has been left upon the hearts' of Americans who lived to tell the tale. These are the stories of teachers at State High and how 9/11 has impacted their lives.
Remembering 9/11
Everyone's story starts the same, a normal school day turned into one of the most tragic days in American History.
Jon Lodge, World History ll teacher was working at his desk while his students were watching a documentary. "Mrs. Kimmel came into my room and said a plane had just crashed into the towers. I went online to see what was happening. They were reporting that it must have been an accident of some sort, nothing about a terrorist attack" said Lodge.
Meredith Henderson, English teacher, was actually a student at the time.  "It wasn't a class I attended with a whole lot of frequency, so it was just luck that I happened to be there on time. It was early in the period, so we were all still chatting with each other and Mr. Yantz, our teacher, when another faculty member came in the room and told us to turn on the TV because an airplane had just crashed into one of the Twin Towers" said Henderson.
Rob Furmanek, History teacher was also working at State High alongside Lodge. "I was in the hallway of the newer wing in the North Building Mr. Long asked if I heard what happened … and he said to turn my TV on in the classroom" said Furmanek.
Maria Shroyer, Spanish Teacher had a closer perspective than most as she was working at a school in Washington DC, just 3 miles from the Pentagon. "The secretary of the school came down the hallway with a radio in her arms looking very serious and saying "something happened in New York" said Shroyer.  
—————————————————————————————————————————-
In times of trouble, we often find ourselves lost for words and unable to find a way to express what we are feeling. After finding out about the attack, teachers explained their initial reactions to the best of their memory.
Ryan Long said his initial reaction was shock and dismay. "It seemed surreal and out of the movies.  The attack of planes hitting the twin towers [it]  just didn't seem possible" said Long.
Henderson said that she was actually embarrased by her initial reaction. "l turned to the person sitting next to me and asked, "What kind of moron can't see the world's tallest building?" 17 year old me probably added an expletive. I assumed it was an accident, and, in my opinion, a ridiculous accident" stated Henderson.
Shroyer was also confused with the reports of the incident. "It was hard to be upset or angry or sad when we didn't even fully understand what was happening" stated Shroyer.
It seems as though before people were even able to gather their thoughts about the tragedy, things got seemingly worse and worse. The second plane hit, and shortly after, America realized it was not an accident.
Henderson stated the she watched the rest of the new coverage when the second plane hit.
"It wasn't until that moment that I realized it wasn't an accident at all. I remember feeling my stomach drop. It was silent for a few minutes, and my teacher said, "God help us all." I'm from Bedford, and we are only about 20-25 minutes from where the plane crashed in Somerset.  People were frantic to make sure that their friends and family members were okay. I don't know that I've experienced anything similar" stated Henderson.
Shroyer, however, was still unaware of the extent of the occurence. "Half way through 2nd period the principal opened my door and said "We are having an all-school meeting in the auditorium when class is over.  This is where he told us what he knew, which at 10 am on 9/11, was not very much" said Shroyer.
The rest of that day there were fighter jets flying over the school and though I knew that we were safe because all other planes in the country had been grounded, the sound was simultaneously comforting and very unnerving. I stayed at school until the last student left at 3.  Her father worked at the Pentagon and we did not know if he was alive until he came get her.  That evening at my condo in Bethesda, I watched the news for the first time.  That's when the panic set in.
—————————————————————————————————————————-
Reflecting on 9/11 Today
Today, America has risen with resilience to respond to the wounds that 9/11 left behind. Our world is different now.
Shroyer stated, "For the next 8 months I slept with a "survival" duffle bag by my door.  It had water, food, plastic, duct tape (in case of a chemical attack), a blanket, a change of clothes and some things for my dog.  We were all so scared of another attack." "9/11 was the fear-based catalyst for much of the racial and religious divide we see in the world today.
9/11 was the first time the word "terrorism" was used by the media in the way it is still used today.  Before 9/11 I think North Americans were better able to separate Muslims from terrorists.  In today's society the two have become interchangeable, which is inaccurate and places an undue burden on Muslim-Americans. Prior to 9/11, the schools in Washington DC practiced 2 kinds of drills; Armed Intruder and Evacuation.  After 9/11 we began practicing Chemical Attack, Radiological Attack, Armed Intruder, and Evacuation. Some of these involved how to lock down with students for up to 3 days.  We stockpiled sandwiches and bottled water.  Every teacher had a designated area to seal off with plastic and duct tape to prevent leaking in toxic air from the outside.  It was crazy, surreal and at the time seemed very possible."
Henderson has a strong reflection regarding 9/11 "The world changed that day. It became difficult to get on planes, to travel outside of the country, to turn on the television without seeing the graphic, disturbing images.  It also changed for the better.  Political affiliations didn't matter so much, people were united, and a common cause existed to unify us.  I lived in a small town that wasn't racially diverse, and so I didn't see first hand how the tensions increased until I moved to New York City the following June. Then, I could see the mistrustful looks on the subway, hear the ethnic slurs and the whispers" stated Henderson.
Long stated that he has also noticed a change in society due to 9/11 "The biggest change was the TSA and airport security.  Over time tension toward those of Middle Eastern ethnicity has increased" said Long.
Lodge added, "Unfortunately we have lost some of our freedoms and privacy. Also I feel we have become less accepting of others immigrants especially those who appear to be from the middle east. I can remember family members being able to walk with you to the gate of your flight without a ticket."
—————————————————————————————————————————-
This year, 2016, freshmen in high school were not alive during 9/11. Although the tragedy is growing old, it's history must not be forgotten.
Henderson stated, "We need to remember this attack because not understanding our history is dangerous. What I wish we would remember, too, is the unity and humanity people showed in those times."
Long suggested the importance of remembering 9/11 could be compared to the importance of remembering December 7th, the Pearl Harbor Bombings. "Military engagements worldwide increased and the US ventured into Iraq and has had a stronger presence in the Middle East as a result. 9/11 has changed the focus of Foreign Policy for the next generation."
After taking time to reflect, Lodge added "First [it is important to remember] to honor those who died and remember the families who still deal with the loss of a loved one. I think it is important so we can have conversations about freedom vs security. And especially trying to understand why it happened so that we can prevent things like that happening again."
Shroyer said, "It's not only important to remember 9/11 for the lives lost and families affected, but also for the effective use of fear throughout history to control and oppress people."
—————————————————————————————————————————-
America is not the only country to deal with terrorist attacks. We are in the same position as many other countries who have been dealing with terrorist attacks more recently. Some believe that it is our responsibility to help other countries recover from these attacks, while others suggest that we just leave it alone.
Furmanek stated, "We need to be proactive not reactive … for reactions are seemingly unable to eradicate this sentiment completely.   why is this occurring?  what role did we play in that, and what role can / should we play in the future?"  
Shroyer said that it's very sad to see the terrorist attacks in a commonplace such as Paris and Europe in general. "I lived in Europe in the 80's and I remember it as a fairly safe and welcoming part of the world.  Unfortunately, foreign terrorists have made France and other European countries question their immigration standards in ways that push out refugees.  When terrorists attack, refugees also suffer" said Shroyer.
—————————————————————————————————————————-
The scar on American hearts can be found even on the hearts who weren't alive to experience the horrors of 9/11. Instead, these Americans have lived their entire lives with the aftermath that the 9/11 terrorist attacks caused. Savannah Schoonmaker, a freshman at State High, reflects on the impact of  9/11 in society today, "Growing up we were unintentionally taught by society that certain races do bad things and that anyone who is of that race is considered harmful or bad." Even without being born, the younger generations experience the effects of the attacks that took place on 9/11. These changes are seen as Nick McNutt, a freshman at State High, spots the changes he notices that have been prominent his entire life. "I feel like the 9/11 attack has really forced national security to be more prevalent in a lot more places, which is a good thing that has come from such a terrible attack and national tragedy." Victoria Stewart, a freshman at State High, specifies these changes, "I know that security in most places, especially in airports, has increased and people are more aware of what could happen." The 9/11 attacks horrific effects are not only felt in those who were alive to experience it. Those born before the attacks have lived their entire life with the changes in society, making them still affected by what happened on the tragic day the Twin Towers went down taking three thousand innocent people with them.