Central Dauphin East's Unsportsmanlike Conduct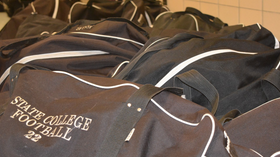 During an away game,  the State College varsity football team was robbed. The robbery took place at Central Dauphin East High School on the 14th of October. Many players such as Sophomore Keaton Ellis as well as Junior Brandon Clark said that the visiting team's locker room was never locked.
Shortly after the second half, it became evident that someone had been in the locker room. Thirteen phones were taken and several personal belongings were damaged and rearranged. Many football players said that they were angry more than anything. After a close game and a humble win, Senior Drew Linnes had quite a lot to say, "I was one of the last people to find out, it was right after we won the game. I never thought I would be the target of anything like that but I returned to a locker room full of scattered things and I was shocked to be honest." `
In the future, precautions will be taken to avoid incidents similar to this. Sophomore Cohen Russell said, "I plan on leaving my belongings on the bus but hopefully, for others, they will lock the locker room door." The overall reaction of the people and players was shock and disbelief. "I just found it completely absurd that they left the locker room open, this truly stunned the whole team," said manager Sarah Bowman.
That night, the football team returned to State College at one in the morning due to a police investigation. Some items were never returned. Sophomore Joe Schwab said, "We as a team have learned a lot from this experience. We will be careful and make sure our valuables are never left unattended."