Little Lions, Tigers, and Bears Oh My!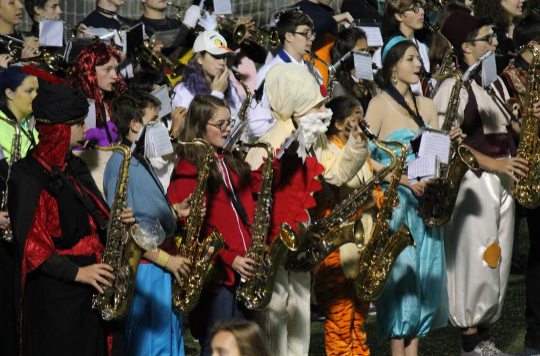 As October came to an end, many students began counting down the days until Halloween. The annual Halloween parade was on Sunday and trick or treating was Monday. The streets were filled with people of all ages dressed in costumes, trying to score some candy. State High's marching band lead the parade through the streets of downtown State College in costume. Junior Liz Allgeier, a French horn player in the marching band, said, "Each rank [consisting of eight people] prepared a themed costume and it tends to be a lot of fun to see how creative each group is, and to plan it." The parade goes through part of downtown where people of all ages dress up to win prizes. "The kids who go to the parade also really love dressing up creatively and they win  small prizes for different categories,"said Allgeier. There are many different categories to join in the parade. Some of them are cartoon characters and superheroes, witches and monsters, fairy tale characters, zombies and vampires, sports, TV/movie characters and much more.
These groups walk together and then down to Memorial field and then wait to be judged to win a cash prize. Another player from the marching band, sophomore Emily Irvin said, "Playing in the  parade was really fun. Of all the parades we do, it's by far my favorite because we get to dress up and spend a lot of time putting our costumes together with the rest of our ranks. I thought it went really well, and everyone's costumes looked awesome this year. We decided on our costumes by having everyone bring in ideas that work for a group of 8, and then after about a month of thinking of ideas, we vote within our rank about what we want to dress as. We decided that Disney princesses would be fun, and we could get really cool costumes to work with the theme."
The parade ends with the judging at Memorial Field. The groups file in one by one, and circle around the field in a long line until you end up at the judge's table. There you circle around the table with your group and they evaluate you and or your group on costume and style. Then if you win your category you get $15. Freshman Vivian Bottiger said, "I thought that being in the parade was a lot of fun. It was really cool to see what everyone else decided to dress up as and to be able to see all of their costumes. It took us a while to figure out what we were going to dress up as but once we got an idea, everything just fell into place.