Lighting Up the Holiday Season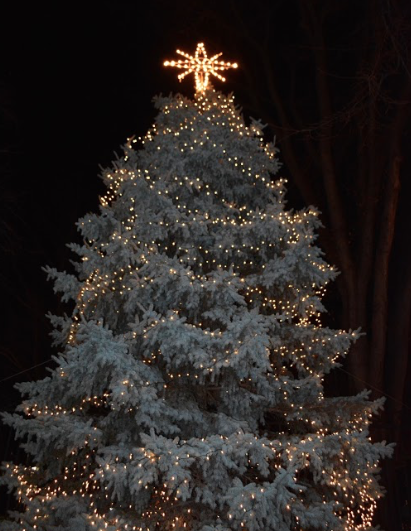 State College's downtown Christmas Tree Lighting has been an annual treasured tradition for years. It is a time for the community to come together at the start of the holiday season and celebrate with hot chocolate, carols, and treats. Freshman Lauren Arnold said, "the tree lighting is the kick off of the Christmas season." On Thursday, November 17th, people began gathering at the edge of Allen street at 5:30p.m. in front of a stage facing the tree, which towered over everyone. The anticipation could be felt throughout the air as the children waited for Santa to arrive on a firetruck.
In the meantime, local bands and different groups of people performed to excite everyone. The community sang along to songs and nibbled on Insomnia cookies. Others observed from the inside of restaurants trying to escape the cold, counting down the minutes until Saint Nick arrived. Arnold said, "my favorite part is watching all of the kids beam with excitement waiting for Santa to come." When he emerged from the truck, the crowd clapped and cheered.
Parents rushed their kids over to get in line for their chance to sit on Santa's lap and tell him what they are asking for this year. They were lined up and down Allen street for this magical moment. Freshman Lydia Fry said, "It really brings the happiness out of people when they see how joyful the kids get." Fry has been attending the tree lighting with her family for as long as she can remember and enjoys going because she "love[s] the winter and Christmas so much!" It was an event for people to direct their focus on the holidays and their families, instead of other distractions.
Junior Reese Johnson said, "My favorite part was seeing all of the lights and decorations." Lit wreaths hung on lampposts all throughout the downtown area, along with buildings wrapped with bows like gifts. Johnson said that Christmas is her favorite time of the year and she "love[s] getting in the Christmas spirit with friends." State College's downtown Christmas Tree Lighting was the perfect way to bring the community together and get in the holiday spirit.