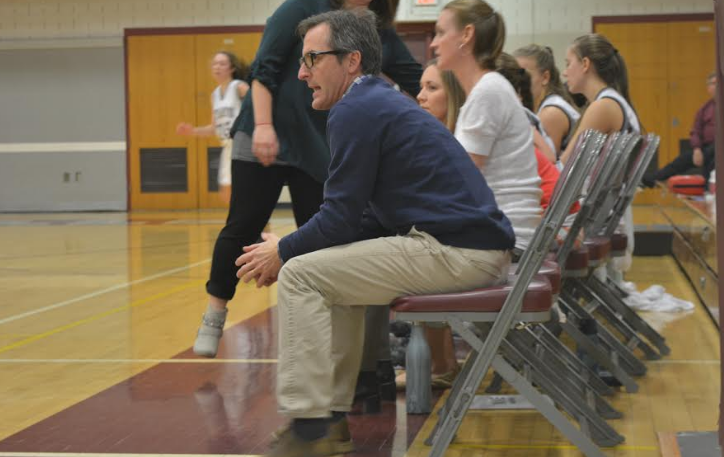 From Hicksville, Ohio to Rio de Janeiro, Chris Leazier's passion for the sport of basketball has taken him to quite a few stops throughout his adult life.
His latest destination: State High.
Leazier was hired in October 2016 to coach the State High Lady Little Lions girls' basketball program. "The opportunity to coach the team at State High was a good one," said Leazier. "The program has a strong tradition, the school is supportive of athletics, and the girls are nice kids who want to get better at the sport."
Leazier heads a team in transition, having lost four starters to graduation including All-State forward Kyla Irwin. He admitted "having a young team presents some challenges, but we are working with our players to see it as an opportunity." The new head coach expects his first season in charge of a high school girls program to be a learning process, both for him and his team. "There is definitely a steep learning curve for everyone in our program. The basketball style and system I teach is new to the players, the players are new to me and even the assistant coaching staff are new," said Leazier.
Helping Hawbaker
Leazier is tasked with finding players that are willing to take on a leadership role in his starting lineup, and that starts with senior point guard Kayla Hawbaker, State High's sole returning starter. "Kayla will be an important presence on our team this year," Leazier said. The coach added that Hawbaker "has a real understanding of what we will be facing in the Mid-Penn Conference…and she will have a real opportunity to get our younger and newer players comfortable with playing at [the varsity] level."
In addition, Leazier hopes to find key contributors who can play extensive varsity minutes for the first time in their young athletic careers. "We are anticipating that everyone on our roster, at some point, will need to make a significant contribution on the floor," Leazier maintained. "Beginning in January, we have sixteen games over a seven week period. Given sickness, injuries and foul trouble, everyone will have an opportunity to contribute."
Replacing A Legend
Over three-hundred wins, eight District 6 titles, five league championships, and two PIAA semifinal appearances. The legacy head coach Bethany Irwin left in her wake when she stepped down from the State High girls basketball team in late August was impressive to say the least, leaving Athletic Director Peg Pennepacker and a special search committee with enormous shoes to fill. Pennepacker believes she's found her coach in Leazier.
"Clearly his resume is outstanding, but it goes beyond the resume. A large part of his job is more than the X's and O's, it's building relationships with the kids. He has [an] opportunity to write his own book," the Athletic Director said. Leazier will be one of Pennepacker's last appointments, as she is set to retire at the end of the 2016-2017 school year.
Charting His Own Path
While Leazier has never coached a high school girls team, he certainly doesn't lack for experience. A four-year player on his high school team in Hicksville, Leazier intended to follow up a degree in philosophy from Miami University with a Ph.D at Depaul, but realized that his time as an educator was best spent on the court, rather than in the classroom. "While I enjoyed teaching college philosophy courses, I didn't enjoy it as much as I enjoyed being in the gym working with players and teams," admitted Leazier. He quit the program to officially begin his coaching career at Saint Ignatius College Prep in Chicago. He later moved on to Thetford Academy in Vermont, and eventually to Dartmouth, where he served as an assistant for both the men's and women's programs for seven years.
From 2009-2010, Leazier spent a season on the staff of the Bakersfield Jam, an NBA Developmental League affiliate of the Phoenix Suns. Additionally, last summer Leazier added to his already astounding resume by coaching the Nigerian Olympic Men's Basketball team as an assistant in Rio. "I am very grateful to have coached in the NBA Development League and in the 2016 Olympic Games as part of the Nigerian National Team staff," said Leazier. He was very reflective about his time both in the NBA and the Olympics, adding that "as a coach and/or athlete, you want to test yourself against the best competition. When you do that, you learn a lot about yourself – both what you are capable of and what your areas for improvement are."
Now Leazier starts a new chapter in State College, hoping to apply what he's learned in his extensive career to his State High program. "Over the 23 years of my coaching journey I've tried to get more clear about what exactly impacts winning. At each stop along the way, I think I've gained some insight into how we should focus our efforts as coaches to help our team become their best." Leazier conceded that he has "made a ton of mistakes," but he has also "tried to learn from them and eliminate them in future stops."
"Ultimately," Leazier stressed, "when working with athletes, you aren't going to get their best performance unless they know that you believe in them."
Early Impressions
As of January 5, the Lady Little Lions have compiled a 4-4 record under Leazier, and players have started to settle in under their new head coach. "He has a lot of experience, he works well with us, and he knows how to harness our full potential," said junior forward Elizabeth Czekaj, a returning letterwinner who will be counted on in the post this season. Junior and fellow teammate Tori Lenze shared similar sentiments. "[Coach Leazier] is a really great guy and does a great job uniting our team," said Lenze, a co-captain of the girls' junior varsity team. "With so many young players and having lost such an influential senior class, his leadership is important to our team."
Leazier himself believes there is a long way to go for his young team, but is encouraged by the progress he's seen so far this season. "Our group has given us a good effort in practice, they have been able to grow from game to game and there are signs that we are starting to develop some on court chemistry," Leazier observed. "I have a very positive impression of our group."