The First of Many Nights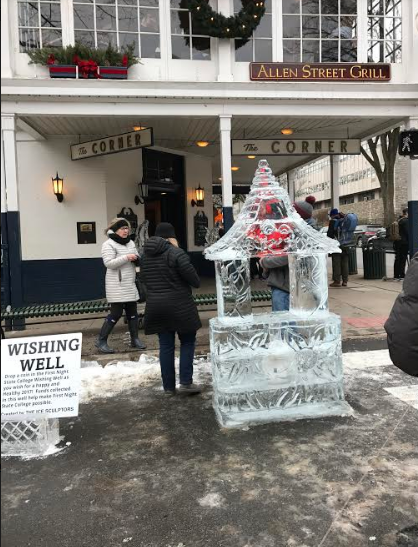 5…4…3..2…1 happy New Year! All around the world people celebrate the night of December 31st and get excited to ring in the new year. Watching the ball drop in Times Square, going to a New Year's Eve celebration, and thinking up New Year's resolutions are all traditions that many people take part in, but here in State College, we celebrate New Year's Eve during First Night. Throughout the day there are many fun activities to participate in until the clock strikes midnight.
One of the biggest attractions in downtown State College during First Night were the ice sculptures located on South Allen Street and in the Sidney Freeman Park. Some of this years sculptures included a throne of ice, a Rose Bowl sculpture and a slide. "It was a lot of fun to go downtown with my friends and see all the ice sculptures. The one of the car was my favorite," said Ainsley Sheehan, sophomore. With such a large variety of sculptures, there was something for everyone to enjoy. Approximately 100 blocks of ice were used this year to create the beautiful sculptures lining downtown State College. Besides the large sculptures seen in the park and on South Allen, small ice sculptures were also seen outside of stores on College Avenue.
With many people having a resolution to be healthy in the New Year, the 5k Resolution Run was a perfect way to spend their New Year's Eve. The run started and finished on College Avenue with Guy Gadowsky, the Penn State men's hockey coach, starting the race. "It was a really fun run but it was also super cold outside. I enjoyed doing it with my girlfriend Camryn," said sophomore David Shoemaker. Another way people got active during First Night was by going to Pegula Ice Arena to skate in their public session that ran between 5 p.m. and 10 p.m. Skate rental was free if you had a First Night button when coming to the rink.
During the day there were also performances, workshops, resolution exhibits, carriage rides, and a grand procession including giant puppets and local drummers. Many students and faculty enjoyed the festivities with family and friends. Overall, First Night was filled with activities for people of all ages to enjoy and was a great way to welcome 2017 to State College.