State High's Home Cheer Competition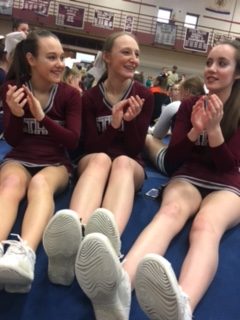 Sunday, February 5th, State College Area High School's cheerleading program and booster club hosted a cheerleading competition in the North Building gym. The competition featured more than 14 teams, including teams in the Small Varsity, Varsity non Tumble, Junior High, Youth Rec, Junior Rec, and Junior Varsity Non Tumble Divisions. Among the many teams attending was Milton High School's cheerleading team, the runner up for Pennsylvania state champions in 2015-2016. Also competing were Bald Eagle Area High School, Tyrone Area High School, West Branch Area High School, and many more.
"It's always a lot of fun to see what other teams bring to the table, how some teams can take basic stunts and turn them into something really cool," stated team captain and senior Carsyn Schafer. Schafer has been a member of State High's varsity team for her entire high school career, and wants to end the season off right. "When I was a freshman, I always wanted to do my best and win for the seniors. But now that I am a senior, I want to do well so that the girls want to return to the team next year and the program can grow and become more successful," Schafer said. She and her teammates welcomed many new faces onto the team this year. Newcomer Sydney Callenberger, a sophomore at State High, stated, "This is my first year doing school cheer, and I'm really excited to perform in front of my friends and family and show them what we can do."
"I feel pretty confident" said head coach and State High alumi Roxanne Williams before the event, "The girls are working hard, the booster club is preparing, and I think this will be a great fundraiser to help push our team into the next season!" The team practices 3 times a week and has been preparing for competition since early October. "Our team has been doing amazing at practice! We had two recent injuries that caused us to change a lot of things in the routine, but everyone is taking it in stride and working harder than ever to put on a great performance for everyone," said Williams.
During the competition, each team competed with a two minutes and thirty second routine, and was judged in their divisions. The competition started at 10AM on Sunday, and all profits went to State High's varsity cheerleading booster club.