New Renovation to Come to Memorial Field in 2018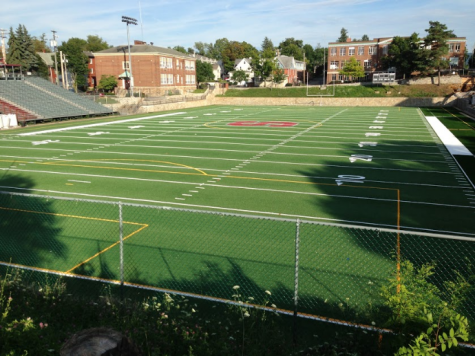 On Monday, February 20th members of the State College community gathered to share thoughts and discuss the renovation on Memorial Field. The new proposal is for an $8.3 to 8.8 million dollar upgrade which will include new bleachers, a new locker room, and new restrooms. The renovation is expected to begin in May 2018 and finish in December 2019.
Mackenzie Brown, sophomore, played field hockey on Memorial field before and believes that new locker rooms would be most beneficial. "As of right now, there are no locker rooms at Memorial Field," said Brown, "so we either need to change at the school before we leave or change on the bus."
Junior Drew Friberg also played football on the field and stated an improvement that would be useful would be fixing up the home-side seating. "The bleachers are a little old and I think it would be great to have new seats on the home side," said Friberg.
In addition, Brown believes constructing bigger bathrooms would be another helpful upgrade. "Even though the ones inside the building are nice," Brown said, "they are not very big because they often get chaotic and crowded during football games."
Memorial Field is a 4,000 seat stadium used for many sports including football, soccer, field hockey, and lacrosse. Built during the Great Depression, John Noll presented the idea of having the field at the current location (Fraser Street and West Nittany Avenue) for $3,000. His idea was approved in October 1914 and began construction right away. The workers were paid $0.15 an hour. Before the construction, the sinkhole was used as a dump and some thought it should stay that way. In 1946, it was renamed from the "Hollow" to the present-day Memorial Field to honor those fallen in World War II.
The next few years will be full of new renovations for State High students including a long awaited new school and field. By 2019, both renovations should be finished with the school estimated to be finished in winter of the 2017-2018 school year.