Getting Back On Track: Jordan Bair
Jordan Bair has had a record breaking 2016-2017 track and field season. With her personal and school record of 42'3" in shot put during outdoor season, and a 40'7" during indoor season, many would consider themselves content. However Jordan has set similar records in discus at 131'9",  and she's far from finished. Her next goal, to set a new school record at Districts this year, proves to be quite doable as well. Jordan Bair is proof that determination and hard work ethic pays off. Bair, reflecting on her last season with SC track and field states, "It's been a really great year! I have been absolutely thrilled with the way that I've been consistently hitting great marks in shotput, and furthering my school records. I just couldn't be happier with how my senior year has played out!"
Her career began in seventh grade when Jordan began to show her talent at a very young age. With the guidance of her grandfather (who participated in the senior Olympics) she began to train shot put and discus competitively. 
And as many say, the rest is history. Improving as each year came and went, Jordan grew to become a dual threat. "It [track] has made me more confident and stronger physically. But most importantly mentally, pushing myself to do better and take criticism well while improving my competitive spirit at the same time."
As her high school years come to an end, Jordan will be leaving behind her beloved sport and taking an entirely different path. While many graduating seniors will begin moving into the dorms this summer, in early July, Jordan plans on going into the Navy as a Mass Communications Specialist. Jordan's job, dealing with the public affairs office, will be a challenge, working primarily as a journalist, photographer, videographer, and graphic designer. Bair is ecstatic, "I'm just so thrilled that I will get the opportunity to work with so many amazing people and try to capture the phenomenal aspects of the Navy that the public typically wouldn't see."
As for what lies ahead, Jordan will travel to Chicago, Illinois for boot camp in July for two months. She will then go to a school which will begin to help her focus solely on her duties for 5-8 months. And after that, everything's a mystery. Although she doesn't know where she'll be stationed, Bair stays optimistic, "I'll go, wherever the Navy needs me! I've known that I wanted to do this since I was in 8th grade touring the Pentagon with my middle school. This is all I see myself doing in the near future, and I can't wait to get started."
Coming from a family of veterans, Jordan is extremely grateful she has this chance to give back to the country and family who have dedicated their lives in service as well. "I can't wait to make them [her family] proud! I feel honored to have the privileges I have gotten as a woman, and to be born and raised in a country that supports and gives me this amazing opportunity," said Bair. Yet all change brings sacrifice. Saying goodbye and walking away from all she knows does have some downsides. "It's a blessing to have gotten the job I did, but it breaks my heart to leave my loved ones here. To just go somewhere I don't even know, It's scary, but I think it's a good kind of scary. I'm excited for what the future will bring."
About the Photographer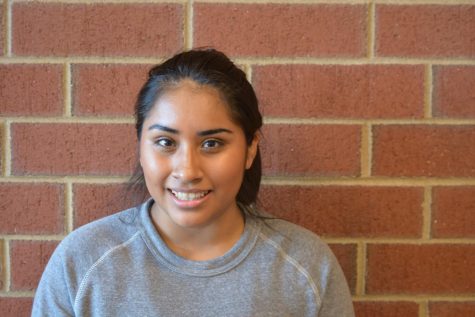 Anjelica Rubin, Print Newspaper Editor-in-Chief
Anjelica Rubin is a senior at the Delta Program, and this is her third year in Journalism. She is a part of State College Girls Volleyball and the Nittany...