Awards in Altoona
Everyone knows about award shows like the Grammys, the Oscars, the Tonys, and the Emmys. However, many people in central Pennsylvania aren't aware that there is an annual award show that happens right nearby. Altoona Community Theatre's Isaac Awards for High School Musicals is an award show for high school theater in central PA. This year was the 12th Annual Isaac Awards and State High was once again present at the award show.
Six State High Thespian students were nominated this year for How to Succeed in Business Without Really Trying, along with nominations for Best Ensemble, Featured Dance, Best Musical Number, and Best Production. Many of the students nominated were seniors, including Justin Shondeck for an Actor in a Leading Role, Lauren Mckee for an Actress in a Leading Role, Eli Yurman for an Actor in a Supporting Role, Noah Miller for a Featured Actor/Actress, and Elena Gomez for Achievement in Design. Junior Morgan Higgins was also a nominee, for an Actress in a Supporting Role.
The event was held at the Mishler Theater in Altoona on Saturday and Sunday, May 27 and 28. Different high schools were present each night, and State High was one of 9 on Sunday. Along with the nominees, most of the company for How to Succeed went to perform a song from the show and to support their castmates. They performed Coffee Break, a number which was nominated and won for Featured Dance.
"It was really exciting to be part of something that got to win," said sophomore Sadie Sublett. Sublett was in How to Succeed and performed along with her cast at the Isaacs. "I've been doing theater since I was four, so it's a big part of my life. [The Isaacs were] a lot of fun." Everyone seemed to be having a good time at the Isaacs.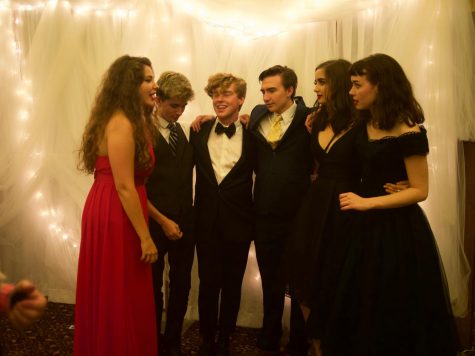 "The formal wear, camaraderie, and praise that continued throughout the night really did make it feel like a red carpet event, even though we all put on our dresses and did our makeup in a Panera bathroom an hour before it started. It's such a great night and I hope I get to go again next year," said Higgins, who won best Actress in a Supporting Role for her role as Smitty. Higgins has been part of Thespians since her freshman year, and has gone to the Isaacs every year, though this was her first time being nominated for an individual award. "I think it's a tangible representation of all the work that I've put in over the past ten years of my life, as well as all the time that members of the State College and PSU theatre community put into teaching me over that time," she said. "It means a lot. I was at home when my mom texted me to tell me that I was a nominee. I was in denial for a good ten minutes. When I won, I joked with friends that in pictures, I looked like a mother being handed her newborn when they put the award in my hands. Apparently you could hear my notecard shaking in my hand through the microphone too. I really wasn't expecting to win my junior year and I had never won any kind of theatre award before, so it was really overwhelming."
Shondeck, who won his award for Actor in a Leading Role, also appreciated the award as recognition for his years of work. "For myself, going into musical theater, it kind of is a little bit of validation. It's a testament to the hard work we all put into the show," he said. Shondeck was previously nominated and won in his freshman year for Best Ensemble,  and was nominated last year for best Actor in a Supporting Role for his role as Motel in Fiddler on the Roof. This year was his first time winning for an individual nomination.
Along with Shondeck and Higgins, Yurman and Gomez also won their respective individual awards. Mckee was awarded runner up for best Actress in a Leading Role, and State High won Best Ensemble and Featured Dance for the Office Boys and Coffee Break. They also won runner up best Musical Number for the song Brotherhood of Man, and ended up winning runner up for overall Best Production. The winners each were awarded $1,000 as a scholarship and received an Isaac Awards trophy.