Interact Gives Back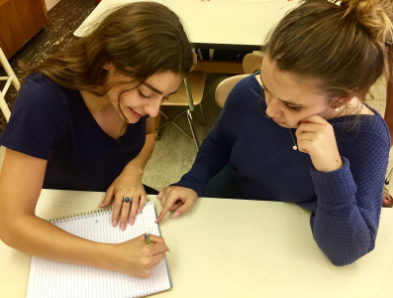 On Monday, September 11th, State High's Interact Club started off the year with their first meeting in the South trailers right after school. The Interact Club offers a great deal of community service opportunities to students, and is available to anyone who is interested in joining. Some of these opportunities include various fundraisers for different organizations, and also the chance to volunteer at a local retirement community, Foxdale Village. While enjoying time with friends, members of Interact can do good for others, and also gain the community service hours required for graduation.
A few projects conducted by the Interact Club in the past include a food drive for Thanksgiving, "Float on Seniors," and the cookie decorating party, which benefited the Women's Resource Center. "Last year, the Women's Resource Center drive really helped, they were overwhelmed by the fact that a high school club would think of them," Jeanette Felmlee-Gartner, the club president, said.
The Interact club loves to listen to ideas from their members, they want to hear project suggestions from any of their members. This year, the leaders of Interact are hoping to kick off the year by helping those affected by Hurricanes Harvey and Irma. On Monday, the club spent some time brainstorming different ways they could raise money to do so. Felmlee-Gartner explained, "We want to benefit the country as much as we can, and we are in an amazing place with tons of resources."
If you enjoy giving back to the community, or if you're looking to become involved, Interact Club could be the place for you.  "It feels good to do community service, and get hours, that's a plus." said Felmlee-Gartner. Interact meets every Monday in the South trailers right after school, and they would love to have you.