Corl Street Brings the Heat at Fun Run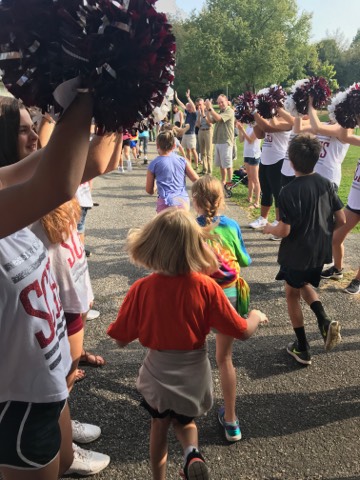 In recent years, "fun runs" have become very popular among many of the elementary schools in the district. A fun run is a noncompetitive run held for the enjoyment of the participants, that commonly raises money. Among the elementary schools in the district that participate in annual fun runs are Easterly Parkway, Ferguson Township, Mount Nittany, Park Forest, and Corl Street.
Corl Street held theirs Tuesday, September 26. The goal of their annual fun run is to raise enough money to cover the operating costs of the Corl Street PTO, so that students and parents do not need to do any additional fundraising throughout the year. All students are urged to participate, either by running or walking with their class. It allows students to participate in an important community event, while being healthy and raising money.
Over $23,000 was raised at the event this year, and will be put towards field trips, classroom supplies, guest speakers, playground improvements, among many other things. A total of 232 students were able to participate in the run.
Jen Reutzel, a 3rd year Cougar Cat Run committee member, says that "the school morale around the time of the run is very high. Students wear their Corl St. clothing to the event, and they cheerfully complete the run. Not only the school morale, but the morale of the Corl Street community is very high." Nearly 30 parents attended the event on Tuesday to help out and watch. The Corl Street fun run helped to bring the school together, and set the stage for a great year to come.