GameDay in State College
Every fall, the Penn State Nittany Lions host 110,000 fans to each of their five to seven home games at Beaver Stadium. However, only one of those five to seven games is a whiteout: a game where every single fan is encouraged to wear white, and is considered to be one of the toughest football environments for an opposing team to play in. Whiteout games are usually played against one of Penn State's toughest opponents, this year's being against Michigan. Whiteout games in themselves are enough to get any fan riled up and ready for some football. In fact, Penn State's whiteout games include the most sought after tickets all season. Nittany Nation was pumped up for this game well in advance. But when the university received word that College GameDay was coming to town, it was absolute madness.
College Gameday is a pregame show that travels across the nation, attending the top ranked matchup each week. Fans can come to the show to experience not only great football culture but also the presence of some of the most knowledgeable football analysts in the world, such as Kirk Herbstreit and Desmond Howard. Anytime GameDay comes to town, you know your team is going to be featured in the most important game of the week. Due to the Jerry Sandusky scandal and the negative connotations surrounding Penn State, it's safe to say the Nittany Lion football program hasn't exactly been at its peak the past few years. But with a perfect record coming into the team's 7th game of the 2017 season, glimpses of the great team Penn State used to be have started to reappear. This was noticed by the GameDay crew, and they decided to make the trip to good 'ol Central PA for the first time since 2009.
The hype was extraordinary. Many of the students attending PSU have never had the opportunity to attend a GameDay broadcast before, much less State High students. Any football fan, especially those of the younger generation who was able, strived to be on the Old Main lawn on the morning of Saturday, October 21st. Brenden Franks and James Hook, both juniors at State High did it all to make their first College GameDay experience great. Both arrived at four am and stood for six and a half hours straight, food and signs in hand. They were even able to get very close to the front of the stage. "It was awesome," Hook said. "I had a lot of fun with my friends and it was so cool to see so much of the community come out." Despite their excellent viewing location, Franks believed they could've arrived later and still pull off a similar spot. "We had to leave at 3:45 am," Franks said. "It was fun but I now know that I can get there at nine am and still have the same experience." They endured backaches, exhaustion, and extreme boredom (at least until the show started). "I was extremely tired," Hook said. "I compensated by drinking five hour energies, yet we were still too tired to stay the whole time. If I were to do it again, I would pack some Advil for the pain." Hook decided against bringing a sign, but like the majority, Franks did. Franks grew up a major Michigan State football fan, and one of MSU's rivals is Michigan. Franks decided to take advantage of the Michigan hate that Penn State fans were exuberating, and made a sign stating: "Can't be little brother if we've won the last 8/10 #GoGreen." This is in reference to the past ten matchups Michigan State and Michigan have had and how many of those games have gone in MSU's favor. Though they both regret getting up so early, they believed the entirety of the experience was extraordinary. "I was really out of it, and the back pain was excruciating," Franks said. "But it was a once in a lifetime opportunity, and I got the best sleep of my life the following night."
About the Writer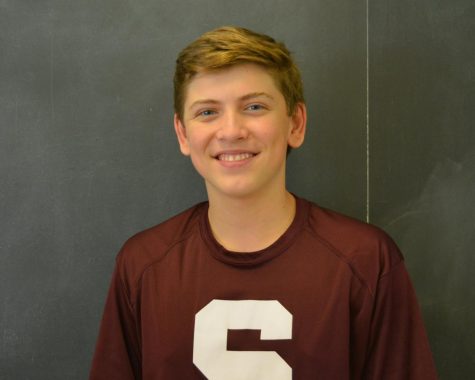 Zach Martin, Staff Writer
My name is Marty and I am an 11th grader at State High. I really enjoy watching, and keeping statistics for sports and I think this class provides an opportunity...