America's Future Convenes for Government Simulation
Every so often, students enrolled in the AP United States government course arrive to the library in professional attire with their chromebooks ready with notes as they conglomerate to face the simulation Andy Merritt has prepared for them.  The Monday before Thanksgiving break, the combined classes debated four proposed amendments pertaining to various political issues.  Students represent their assigned senator and follow procedures that mirror the actions of Congress.  The fate of each amendment lies within the strength of the arguments and effort level presented by the students.
The amendment topics ranged from universal healthcare to abortion laws.  Because students are randomly allocated a member of the United States Senate, it is not uncommon for a discrepancy in their personal values and how they must act for the simulation.  Lizzie Craig, a senior who avidly participated during the event said, "The most challenging aspect was to probably getting into the mindset of the senators we were assigned, instead of debating the amendments based off our own beliefs.  At this age, we are still trying to form our own political opinions so it's difficult to shift them."  This adaptation demonstrated each participant's ability to thoroughly inspect all political perspectives, not just the one they identify with.
Merritt has been teaching the class for several years, and is very familiar with every component it entails.  However, during these conventions, he removes himself from the conversation and allows the students to shape their own educational experience.  This year, seniors Kayleigh Matthews and Justin Korman functioned as moderators, granting recesses and overseeing the voting process.  "I was very pleased with this [simulation] because I did not have to interject at all, the student preparation was fantastic, and the depth they reached was great," Merritt said.  Arguing such sensitive issues always proves to be difficult, but this year's batch of students confronted each obstacle with sensible respect towards all viewpoints.  "They argued about real issues at a level I wish our legislators could reach," Merritt said, "These discussions can only take place if students are prepared and willing to take it on at such a mature level."
After three periods of constant back and forth, only a single amendment could capture the required two-thirds majority to pass.  Nevertheless, the discussions stimulated a positive learning environment and emerged as a success.  Or, in the words of Andy Merritt, "This Constitutional Convention was outstanding!"
About the Writer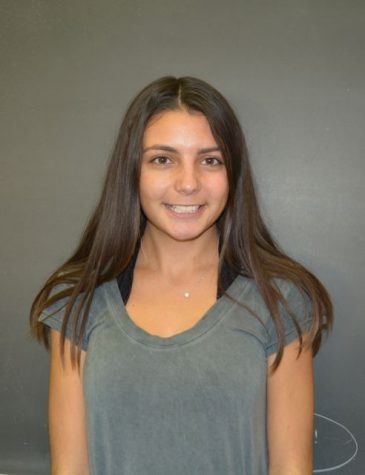 Sydney Asencio, Staff Writer
My name is Sydney Asencio and I'm currently a junior.  This year I chose to enroll in Journalism 1 and I am beyond thrilled to be involved.  I've always...