Make Earth Clean Again: State High Recycling Club
Jun Mok, Staff Writer
December 11, 2017
Every Tuesday after school, State High Recycling Club students join together to complete service activities such as taking out the trash from school classrooms and separating items to be recycled. The club strives to fix trash problems by starting small at the high school level. It looks to teach students the proper ways of sorting plastics, paper, glass, and trash, preventing further damage to nature and the environment.
Arthur Sun, a senior member of the club said, "I heard from my friend that there is [a] recycling club, so I joined and recycled. Since I wanted to participate [in activities] in school and wanted to help [the] school, Recycling Club was my best choice."
Recycling Club, new at State High this year, spends an hour and a half each week giving students a good and helpful way to earn community service hours for graduation. Currently, there are six members of the club and advertisements are being made for further recruitment. Ultimately, members of the club devote their time to helping the Earth, and working to understand the hard work needed for custodians to make the school clean and safe.
"I was looking for some clubs and work related to nature and cleaning," Sun said. "I think we need to help Earth since Earth provides us [a] place to live. It was actually fun and [a] helpful time. I hope I can do it again next week."
Sindy Liu, another member of Recycling Club, has nothing but positive takeaways from her experience.
"Recycling Club has encouraged all of us in it to become more aware of what we can do to change and improve," she said.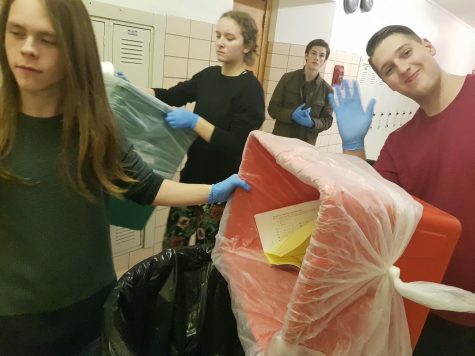 Nicholas Mckee, Ari Cox, Wyatt Gilbert, and Donovan Brubaker sorting recycle material from State High classrooms. State High Recycling Club meets every Tuesday after school in an effort to promote a healthy Earth.