Leadership Council: The Bridge Between Students and Administrators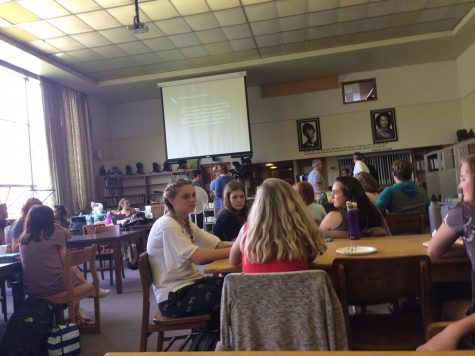 "We the students of State College Area High School, to promote a free and equal learning community, solemnly form a government and lay out its constitution below."
The student body may feel consistently startled and haphazard, but as evident by the opening of their constitution, the State High Leadership Council has wasted no time getting to work. Leadership Council-a branch of the Student Government- serves a key role in our school community, as the liaison between students, staff, and administrators. Any issue encountered in school can be presented to the Leadership Council, who will work with administrators to resolve the problem. The size of Leadership Council has tripled this year, with a total of 66 members that span all four grades, including a board of student officials and an elected speaker.
The first meeting included a visit from Commissioner Pipe, who touched on a wide range of topics, from his daily role in local government to his experience working on the first Obama campaign. Commissioner Pipe provided valuable insight about what can be learned from both a winning and losing an election. This visit served as the kickoff to a year-long series of presentations to the Council from community leaders in politics, education, society, and business.
The first meeting also included an informal election, in which junior Aja Kukic-Bartoo, was elected House Speaker by a majority vote. "I felt really invigorated in it. I mean, I love everyone involved in it, and I felt that maybe I could access that in people, be a rousing member," Kukic-Bartoo said.
In terms of public activity, the Leadership Council has quite a bit in store. According to Council President Justin Korman, the group plans to focus on activism and inclusion in the context of education this year. Specifically, they will work on empowering teachers and students alike to strive for excellence in learning.
This goal fits perfectly into the main purpose of Leadership Council: to assist and provide feedback on school policies. As stated by President Korman, all policy decisions affect almost two and a half thousand State High students, so it is only logical that students are involved in that decision making process. While the issues to be dealt with are still unknown, we can rest assured that the Leadership Council has our best interests at heart.