Ringing in the New Year at First Night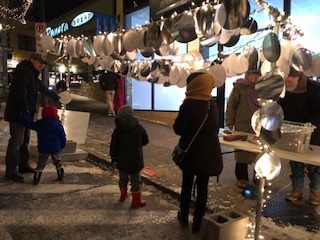 Cold temperatures on the final day of December didn't stop State College's annual New Year's Eve celebration as crowds of community members came out for the festivities.
The family-friendly atmosphere notably referred to as First Night is organised by the Central Pennsylvania Festival of the Arts. It has been a tradition in Centre County, PA for more than 20 years.
One of the biggest attractions in downtown State College has always been the ice sculptures. Approximately 100 blocks of ice were used this year, and a total of 85 one-block sculptures were placed at various points downtown.
A walk down Allen street and College offered visual views of the centrepieces. Some of this years ice sculptures included a throne of ice, a 2018 sculpture, and an ice slide in Sidney Friedman park.
"My favorite part of First Night has always been the ice sculptures," freshman Anna Faris said, "even though the temperature isn't as friendly, it is always a blast to walk downtown with my friends and look at each one!"  
With many resolutions being a healthier lifestyle in the New Year, the 5k Resolution Run was the perfect way to celebrate New Years Eve. The run started and finished on College avenue. Another way to get active was at Pegula Ice Arena which ran 45 minute public skate sessions from 5pm to 10pm. Skate rental was free if a First Night button was shown.
"It was really fun to skate around during public session," sophomore Kaden Litzinger said. "It is not as easy as it looks, but I had fun and would totally do it again. There is definitely something special about seeing the public surround such a big part of our community."
During the day, live entertainment, performances, workshops, and carriage rides were other factors in First Night's success. Many students and faculty enjoyed a night out with friends and family while enjoying all the activities First Night had to offer.
"It is such a great way to be out and about in our town," Litzinger said, "Even with the cold temperatures, I can't imagine a better way to welcome 2018!"