Dancing The Cold Away
On Friday, February 10th, there was a winter dance in the State High North Gym. Many State High students invited students from other schools to enjoy the event as well. Anne Gustafson, the sophomore student senate treasurer, emphasized the importance of following proper procedures when buying tickets. "If any student wishes to bring a friend or date from another school district, they need to complete a required form that can be obtained in the main office," Gustafson said.
Many people attended the event and enjoyed dancing to today's top hits. "The dance was pretty fun, but it was pretty crowded and hot inside the gym," said junior Nate Smith. Another State High student, junior Jack Sapia, added, "It was wonderful two hours to hang out with my friends and take pictures together."
Foods and drinks were provided and students could eat whenever they wanted throughout the night. Many couples took pictures together with wide smiles and silly gestures. There was a photobooth where people could use props to pose for pictures.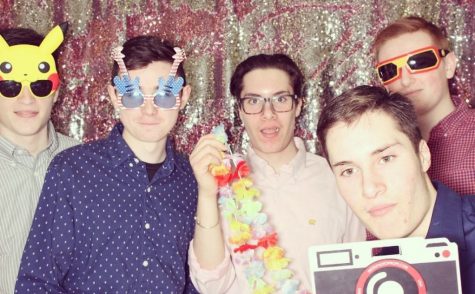 Ethan Wolf, Daniel Plants, Enzo Sapia, Jack Sapia, and Nate Smith, juniors, pose for pictures at the photo booth at the Winter Dance. The guys enjoyed the props at the photo booth as well as the music and dancing. Plants said, "Actually, this was my first winter dance, but it was better than I thought. And I liked the party inside."