Celebrating Twenty Years with a Standing Ovation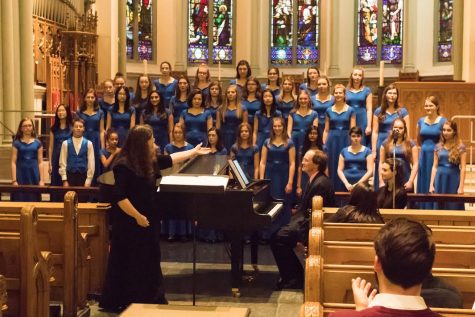 Nittany Valley Children's choir was started by director, Lou Ann Shafer. This organization was founded in 1997, therefore this marks NVCC's twentieth anniversary. In this organization, there are three choirs, White Choir, which is a non-auditioned ensemble from ages five through seven. Blue Choir, is also a non-auditioned ensemble but for ages eight through eighteen. Concordia is the last of the three choirs, it is an auditioned choir from ages eight through eighteen. Lou Ann Shafer, director, said, "This select ensemble consists of advanced singers who have demonstrated outstanding singing ability, positive attitude, and commitment to excellence in performance."
Every year Concordia goes to a conference, in the past they have gone to national conferences and also PMEA, ACDA, etc. Mrs. Shafer, director, said, "The Concordia Singers perform challenging, advanced level repertoire to a high degree of musical excellence in a variety of settings from local concerts to national venues." This year NVCC's Concordia went to ACDA (American Choral Directors Association) in Pittsburgh, PA. Their performance consists of six songs, and includes many different instruments through a few of the songs. In the song Stars by Sara Teasdale includes the choir singing a cappella with only glasses to assist them. El Barquito is the other a cappella song where Ann Marie paul, senior, plays the djembe drum, but for the rest of the songs Timothy Shafer glorifies the audience with the piano.
Mrs. Shafer informed the singers that the directors may not clap, or be super enthusiastic about the performance, but she reassured them that they would do great, and that she was proud no matter what. After an outstanding performance from Concordia, the crowd was blow away, and they showed their gratitude and appreciation to the singers with a standing ovation. The Concordia singers left with pride and joy, as they anticipated their next performance.
Lauren Lieb, freshman, said that her favorite memory from the conference this year was, "Definitely when we got a standing ovation. I had been super focused during the whole concert, but when everyone stood up I couldn't stop grinning, I was honestly really shocked. Our director told us beforehand that the audience might not be super enthusiastic or responsive so none of us expected a standing ovation." Annamarie Jasso, freshman, also said that her favorite memory from the conference was, "Definitely the unexpected standing ovation."Keya Ahrestani, freshman, said "My favorite memory was getting a standing ovation at our first concert, even after begin warned by Mrs. Shaffer that the audience may not clap at all." Although, achieving this, was a very long, and hard process. Jasso said, "We practiced…a lot. At least once a week, for hours, if not longer, and everyone practiced individually as well." Lieb also stated how Concordia prepared for ACDA, to prepare, " We practiced 24/7!! We had three hour rehearsals on Saturdays and then practices on weeknights sometimes too." In the end, it was worth it.
After the concerts Mrs. Shafer gave a beautiful statement on how proud she was, "I want you to know how very proud I am of you—for your excellent poise under pressure, your concentration, and your extraordinarily beautiful singing. I am truly amazed at what you have accomplished. Your hard work, devotion to the music, and dedication to Concordia have all been a part of your success. I could not have asked for any more!"