Once Upon a Thespians Show…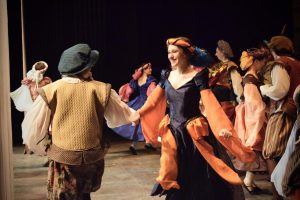 Ten or so students paraded across the room while carrying blow up mattress as they intently whispered "Quiet" over and over again. Slightly odd? Yes. But did it have a purpose? Obviously. The State High Thespians were rehearsing a scene from their show, Once Upon A Mattress. At that particular moment the castle occupants were doing their best to get ready for Winifred's test which would prove that she was a true princess and therefore should be allowed to wed Prince Dauntless. If that ever happened then everyone in the kingdom would finally be allowed to get married. The story is loosely based on The Princess and the Pea so audiences should have no trouble following along. The cast has been rehearsing since January when auditions were held. "I honestly love the rehearsal progress, it's a lot of fun, I love the people and having fun with them and even getting yelled at and getting in trouble is fun in a way because it's a part of the learning and it's exciting and it's fun," Abby Lemmon said, junior, who plays Lady Larken, a sweet girl who has a serious reason for wanting Prince Dauntless to get married.
It's not just the actors who have to prepare and work for this show. The crew also spends hours slaving over lights, sounds, costumes, makeup, props and all sorts of other things that might not be noticed at first, but would certainly be missed if they weren't there. An example of someone who must coordinate some of these things is the props master, "As Master of props my job is to stay in charge of props, part of my job is to be a leader to the people I work with. Additionally my position as a designer is to make, build, and find props," Caleb Craig, freshman, said.
Another position of importance is the assistant costume designer. "My job involves a LOT of sewing. I do what Julie [who is in charge of costumes] asks me to do, what she doesn't have time for, and when she's busy I help direct the rest of the crew on what they need to do," Ella MacZura, senior, said.
Of course everyone has fun while doing their job. "My favorite thing about playing the queen is how much I get to yell, because I'm not allowed to yell in normal situations and in the show I get to yell a lot because I'm evil, so that's cool. Some similarities is that everything has to go our way, but we are very different because she does it in a way more aggressive way than I do." Olivia Marshall,senior, said when asked what her favorite thing was about playing her character, Queen Aggravain.
Nick Cole, sophomore also has his favorites. Or in his case a specific scene. "Definitely Man to Man talk, it's really funny and it's really fun to have that connection with Spencer on stage, it's kinda what the song is all about," Cole said.
The song he is referring to is one where he and Spencer Perry, junior, who plays his father, King Sextimus have a little talk about the birds and the bees, but because the King is mute, this provides some challenges. Behind the scenes, the crew has their favorites too. "I love sewing the ladies' dresses and making them 'new.' The dresses are interesting (good or bad is up to the eye of the beholder). Also sewing the more period outfits. It's a lot of fun adding gaudy ornaments to them," MacZura said.
The construction has provided some challenges for rehearsing. "With the move we don't actually have a stage to practice on, which I would say is a really big problem but I think we actually made do well and the room that we've been practicing in, which is the old north counselling room, actually worked pretty well," Will Fecko, sophomore, said. After the new cafeteria opened, the thespians moved to the old cafeteria, where all the old chairs and tables had been cleared out. For tech week they will finally be able to rehearse on stage with full sets.
Because of all of the construction it was never clear where the end product would be. About a month before the show it was announced that the cast will be performing the show at the Playhouse Theatre in the Theatre Building on Campus on April 12, 13,14 and 15. All shows will be at 7:30 except for the matinee on April 15 at 2:00.
Considering going to the show? Students are encouraged to because "it's incredibly funny and literally so many talented people are in it that's it's so cool to come and support your fellow student." according to Olivia Marshall, senior. For more information or to purchase tickets, visit the thespians webpage at https://www.scasd.org/Page/34822.