Taking the Pitch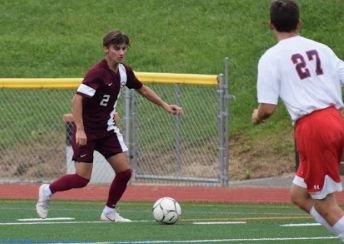 With the start of the 2018-19 school year, the fall sporting season for the Little Lions is underway. Last year, the State High boys soccer team carried an impressive 13-5-1 record into district playoffs but were eliminated in the District 6 championship game. Turning the page, this year's team is very excited to see what 2018 has in store. "I think we have a very good team this year; we have a lot of quality players. I'm looking forward to seeing how the season plays out and how we do" says junior, midfielder, Marc Rodgers.
Key returners such as Rodgers along with junior, Garrett Callenberger and senior, Daniel Bennett will help carry the Little Lions into yet another promising season. One key contributor early in the season has been senior midfielder, Ben Vollmer. After missing his entire junior season due to a knee injury, Vollmer has settled back in quite nicely with the team, being named Co-Captain by the coaches. "Honestly, missing last year was tough. It was hard watching everyone and not being able to contribute but ultimately allowed me to grow as a player and leader " Vollmer says.
After a hard fought game at Wilson High School on Saturday (9/1) resulting in a tie, the Little Lions were searching for their first win of the early season. The defending Mid-Penn Commonwealth champions opened up their home schedule Tuesday (9/4) against the Williamsport Millionaires. An early goal from Rodgers (1) and strong defensive performance was enough to push the Little Lions to their first win of the season, carrying a starting record of 1-0-1 through the first two games of the season. Expectations within the team are high this year. "I think we can have a very good season and hopefully make a run in the State tournament" Rodgers explained. The veteran lineup looks to continue their early success as they travel to Altoona on Saturday (9/8).