What is Back to School Night Really Like?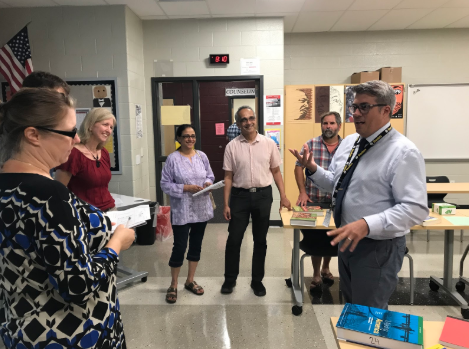 Every year during the second week of school, State High holds Back to School Night for parents to acclimate to their children's new school schedules. Teachers station themselves in their classroom while curious parents and some students roam the halls attempting to locate their child's classes. Teachers get a chance explain their classes, and parents get a chance to learn about their child's classes, teachers, and daily routine.
Stephanie Flanagan, parent of Declan Flanagan, a junior, said her goals were "to meet the teachers and understand the curriculum and then make [her] way around the school to see what Declan experiences in a day."  She, like other parents, also expressed difficulty in navigating the pods.
Mr. Fillmann, who teaches Physics, said, "I see Back to School Night as a chance to meet parents…to give them an idea of who we are as teachers here at State High, and just a chance to open avenues of communication."
Ms. Manhart, a 10th grade English teacher, said, "I use it to give parents the opportunity to see and feel who it is that their child spends their day with."
She continued, "I think mostly parents just want to know who you are, what kind of person you are. They just want to meet you and feel you out, that's really what it is. And I want to be able to give them the positive experience that their kids get every day."
Teachers and parents alike commented that Back to School Night is a fun and exciting experience. For Mr. Fillmann, the most fun part is getting reacquainted with parents of students with older siblings who he has already had in class. "It's fun to catch up and hear how people are doing…and reconnect," he described.
Some teachers enjoy getting feedback on their classes. Ms. Manhart shared her interest in getting to know her students through their parents.  "My favorite part of Back to School Night is the enthusiasm that parents share that their students have for learning and for school, and when they share stories about what their kids talk about at home," she explained. "I just can't get over that, because a lot of times in class you will not know who's excited, who's interested, because everything is inside, and a lot of times students don't want you to know they're excited, or that they're glad to be here, or they like your class, so I just love when there's that opportunity for parents to say 'actually, we talked about this at home' or 'actually, they picked up that book and liked it.'"
Back to School night gives parents and teachers a unique and important perspective, and is a helpful snapshot of the year ahead for all involved.