Embracing Diversity with D&A Club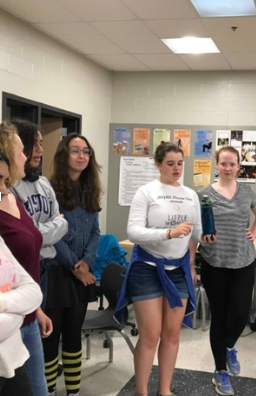 Diversity and Activism Club held their first meeting of the school year on Tuesday, September 18th. Diversity and Activism Club is a student led club at State High whose mission is to provide a positive environment and an open place to discuss issues facing today's society. The club meets every Tuesday after school until 4:30 and is open to all students at State High.
At the meeting, Kyra Gines, president, went over some of the goals of the club and made introductions. The club talked of their plans to spread awareness on issues ranging from mental health to sexual abuse. They want to put information out to SCASD students and in the community to raise awareness on these issues. The first forum will be held on October 9th discussing consent. According to a sophomore member, Heejung Koo, "Diversity club believes that it is crucial to spread awareness about diversity in the world and at SCASD." In the past, the club has held forums on issues such as school safety and mental health.
Senior Jackson Harper has been in the club for two years. According to Harper, "I like diversity and activism club because it gives me an opportunity to talk about things that are important to me with other people who are just as passionate." This club is an opportunity for other students who are excited to talk about current events and issues because there is common ground to be found with other members.   
Outreach officer Auden Yurman stressed the importance of the club stating, "Youth involvement is important in the community and it gives us experience when it is our turn to make a difference."
Koo also said, "We want to recruit a lot of different people to gain different perspectives on issues."
If you enjoy talking with fellow students about current events and spreading awareness on prevalent issues facing the community, then Diversity and Activism club might be a good option for you. The club will meet again next Tuesday in room 116D.