Trevor Noah Comes to Town!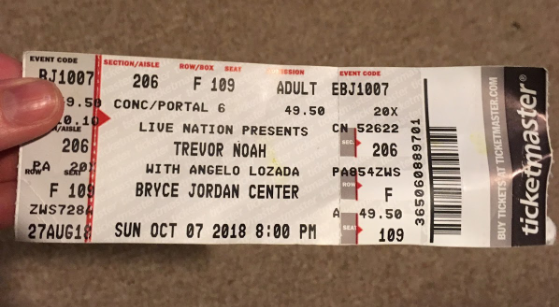 On Sunday night there was a familiar scene on Penn State campus: awful traffic, full parking lots, and the Bryce Jordan Center lit up, signaling yet another guest. Although there's usually music blaring in the BJC, laughter was echoing through the building Sunday night. This was due to the visit of the popular comedian Trevor Noah.
The doors opened to the Bryce Jordan Centre at 7PM Sunday night. At 8PM special guest Angelo Lozada  took the stage, opening for Noah. Lozada is a fellow comedian and warm up for Noah's show on comedy Central. Noah took the stage at 8:30PM. The event ended at 10PM
Trevor Noah is a comedian, political commentator, actor and writer. Noah started his career in South Africa and started touring internationally after becoming one of the best stand up comedians in his country. Noah also made appearances on the Tonight Show with Jay Leno, the Late Show with David Letterman, and The Daily Show on Comedy Central with Jon Stewart before taking over for him in 2015. Trevor Noah is also well known for his 2016 book "Born A Crime."
Trevor Noah often puts politics in his comedy, expressing his liberal point of view. Students such as Morgan Pandolfi and Farhan Talukder enjoy his political approach, and went to see him Sunday Night. According to Pandolfi "I enjoyed seeing him and was interested because of his insightful political comedy." Pandolfi also said that his performance Sunday Night was different from his usual act. "While Trevor Noah is usually a political comedian, he also included more social jokes during half the show."
Although the arrival of the popular comedian at the BJC sparked interest for a lot of State High students, not everyone was interested in going to see the comedian. For students such as Grace Pennabaker, the political approach isn't as appealing. "I wasn't as interested in going to see someone like Trevor Noah, because although politics are important, I tend not to follow it and wouldn't enjoy comedy focusing on it."
Trevor Noah's show, The Daily Show, can be watched at 11PM on weeknights.