What is Día de los Muertos and Why is it Celebrated?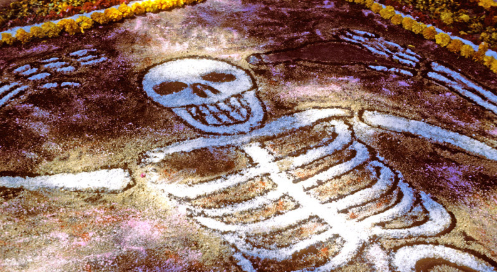 Día de Los Muertos, or Day of the Dead, is a Mexican holiday developed from ancient cultures and dates back over 3,000 years. It is celebrated from October 31st to November 2nd, and though it may start on the same day as Halloween, Día de Los Muertos is a completely different holiday.
Día de Los Muertos is a tradition to celebrate and honor the dead. It starts on October 31st when it is said that the gate to heaven is opened at midnight and the spirits of deceased children come down and are allowed to unite with their families for 24 hours. On November 2nd, the spirits of adults come down to enjoy the festivities.
In order to celebrate, families make altars and place offerings on them. Altars make the souls feel welcomed and show them they have not been forgotten. These altars are decorated with candles, buckets of flowers, mounds of fruit, peanuts, sugar skulls, Day of the Dead bread known as pan-de-muerto, and toys left for children.
So why does this holiday exist? Well, being assured that the dead would actually be insulted with mourning sadness, Día de Los Muertos is a day to celebrate the dead with food, drink, parties, and activities the dead enjoyed in life. Día de Los Muertos recognizes death as a natural part of the human experience, and just a continuation of life. It also gives the dead a chance to come back and be with their community and family again. Though for many families the Día de Los Muertos celebration may be very expensive, they believe that the dead spirits' happiness will provide protection, good luck, and wisdom. This day is not just to celebrate death, but to celebrate life.
"For me, the celebration is a way to connect to my heritage in a beautiful way. I think sometimes when people don't know the meaning of it…it seems like something weird. However, the celebration is about honoring your ancestors and those who have passed. It's about celebrating the lives of those people that were important to you. It's actually the first time I've celebrated it , and I think that it showed me how beautiful Mexican traditions are. Besides, I felt that it was due time that I honor everyone who has passed and made an impact on my life," Natalia Carrasco-Munoz, junior, said.