Interact Club Creates Change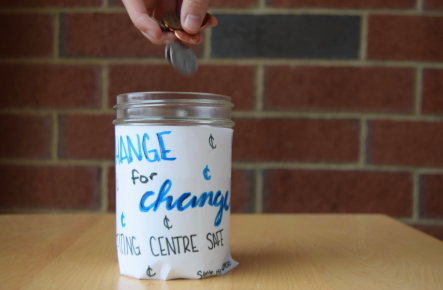 Created by the Interact Club at State High, the Change Drive was an initiative to raise money for grocery stores gift cards to be given to Centre Safe, an organization that supports victims of domestic violence. The drive lasted from November 5th to the 19th, with jars in classrooms for students to donate change.
"The Interact Club is a community service club at State High. Throughout the year, we run projects, small and large, that range from fundraisers for hurricane relief to letters for the families of shooting victims. We find areas of need in school, local, national, and global communities, and do our part to contribute to the solution," Tegan Oliver, president of Interact Club, said. They were able to raise $365 in Walmart and Weis gift cards, just in time for Thanksgiving.
The Change Drive asked for students to help out by donating spare change. "I have grown an appreciation for how small sacrifices of your own time and resources can contribute to a much larger change in someone else's life," Oliver said.
The holiday season, and Thanksgiving, in particular, is all about gratitude. Helping others, no matter how big or small the gesture, captures the essence of the holiday season. The change drive was just one way for students to reach out to their community and make a difference. There are sure to be more opportunities in the future, as the Interact Club is already teaming up with some other groups within the school, including the National Honor Society and Key Club, to create fundraisers for wildfire relief in California. These fundraisers will take place throughout December. So, the next time you get a chance, take a moment to help someone else. No matter how big or small the contribution, you can make a difference.
"It's rewarding!" Oliver said. "I pass around a can in classes and to friends and family and collect change that way; it's been really rewarding to fill the can!"