Wish You Were Here At Travis Scott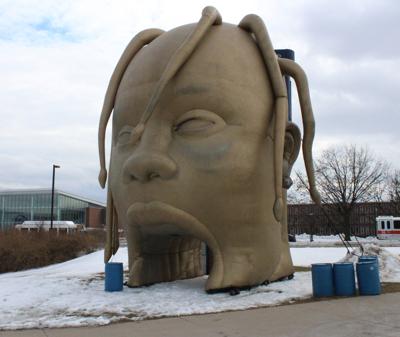 Houston born rapper, Travis Scott, had Beaver Stadium wild for his "ASTROWORLD: WISH YOU WERE HERE" tour. Before the doors opened at 7 o'clock, hundreds of Penn State students and local State College residents waited in the cold to get the best seats.
Sophomore Colin Davis, who attended the concert said, "We got there at around 6:15 and waited in the line to get in. The line wasn't that long, but it was cold and after getting in. Being close to the stage it was worth waiting."
The modern day rapper Sheck Wes with the popular song "Mo Bamba" opened for Scott. In about one day, the Bryce Jordan Center staff put up a roller coaster loop and small rail, a huge projector screen where videos were played, and a stage in the middle and in the front. A little after 9 o'clock, Travis appeared on the middle stage, where he started with the song "Stargazing." This was the first song of his very successful album, "Astroworld."
Riley Mehalick, sophomore, described the moshpit on the floor. "It was really crowded," Mehalick said, "People kept trying to get as close as possible to the stage that Travis was on, and it just made everything crowded and hot."
People who purchased General Admission tickets needed wristbands. People on the floor were closer to the performance, but it did cost over a hundred dollars.
"Many people got pictures in front of the Travis head statue, and it just added more excitement to be there," Carson Franks, sophomore, said. Travis Scott didn't entertain the audience just from the thirty songs he performed, but also from the roller coaster and exciting props he brought with him.