Bocce Ball Match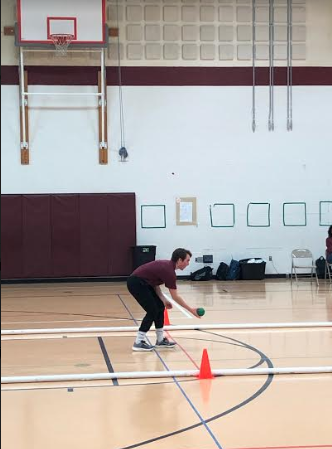 On Thursday, February 21st, State High's new Bocce Ball team hosted their first home match of the season at Park Forest Middle School.  The Bocce Ball Team is an internationally recognized sports club. Each team pair consists of a special needs student with a non-special needs student. The teams were really looking forward to playing the game at their own school, but the weather forced the event to be held at Park Forest instead of the high school. Clubs and teams were invited to go watch and cheer the State High pairs on right after school at 4:00 pm.
State High junior, Federico Signoretto, traveled to the match to cheer on the participants at the match. He thought that the match was a little bit confusing at first, but once he got the hang of it, it was really exciting and fun. He claimed that the athletes were very good and that he would go to watch another one.
A participant in the match, Elliot Sheehan, a junior at State High stated that the match was fun to participate in and that he had a great experience helping out.  
Junior, Iris Lee, attended the bocce ball match on February 21st, also. She said that she had a blast at the match. It was her first time watching a bocce ball match, and she wants to learn how to play bocce ball. Lee said, "I had such a great time watching. Lots of people attended, and the crowd was cheerful and positive. I loved the atmosphere, and will definitely attend the next one."