State High Boys' Lacrosse Sticks it to Mechanicsburg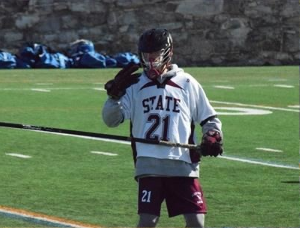 On April 5 of 2019, the State High Boys Varsity Lacrosse team beat the Mechanicsburg Wildcats 17-3 at home. Although the varsity team as usual brought up a few players from junior varsity, they still sealed the deal and improved State High's record from 1-4 to 2-4.
Following the loss, the Mechanicsburg team record dropped to 3-3 on the season. This Mechanicsburg team is playing better than they have before in previous seasons.
Sophomore Will Kerber is playing his second year of lacrosse at State High for the varsity team. "We played extremely well. I'm just happy that we played through the rain and came up with the win," Kerber said. Kerber saw playing time last season as a freshman and hopes to keep improving to see more minutes and experience.
Conrad Moore another sophomore on the team, has been at the away games and has observed how the team play. "I'm excited for this season, I feel like our seniors are already starting to play really well," Moore said. Moore's older brother Owen Moore specializes in faceoff's and is a strong player. Two other seniors Ryan Franks and Connor McDonough play a huge part and are strong leaders on the team.
The day after the win (Saturday, April 6) the Little Lions played Franklin Regional in Murrysville, PA. They battled hard against the Panthers in this non-league outing and ended up winning 14-3. The Panthers go into the outing with a record of 1-1. Franklin Regional lost 10-5 in their recent non-league outing against Penn-Trafford (Harrison City, PA).