Your Guide to This AP Season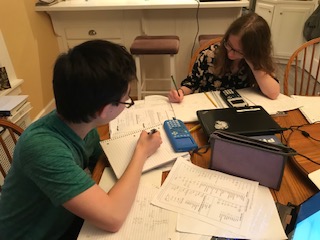 If you have been keeping an ear out at State High over the last few weeks you have likely heard talk from students and teachers alike about the upcoming threat of the AP Test. One of the biggest stressors for upperclassmen in advanced classes, the dreaded "AP Season," falling this year from May 6th to May 17th, is infamous among high schoolers as a low-risk-high-reward result of taking AP classes.
Most students know that AP stands for Advanced Placement, but what they may not realize is that the AP Program is sponsored through the College Board, a non-profit organization that administers standardized tests such as the SAT for college admittance. Any student enrolled in an AP class can (but does not have to) take the AP test at the end of the year by registering and paying the registration fee on the College Board website, but based on course tracking, mostly juniors and seniors end up taking AP classes. Students choose to take AP classes for a variety of reasons.
"The only reason I take AP tests is to get out of school and enjoy hanging out with my friends downtown," senior Julian Sim said. On the other hand, some students are pressured by their parents to take advanced level classes–and for some subjects, the only higher level class for that subject is an AP course, so they decide that they might as well take the AP Test along with the class.
"I really hate being bored," junior Willow Martin said. "I like to push myself harder than I can handle but I genuinely like learning." The AP program encompasses a variety of topics, including subjects everywhere from Biology to Calculus to Art History to languages such as French, Spanish, and even Chinese and Latin. The variety of subjects is also helpful for the main purpose of AP Tests: college credit. Most colleges accept credit earned through AP test scores, with the exception of nine institutions including Dartmouth University, Brown University, and Cal Tech. AP Tests are graded on a weighted scale of 1-5, with 5 being the highest possible score. At Penn State University, a score of 4 or 5 on most AP exams will typically earn some credit for low-level or General Education classes.
"I think AP Tests can be helpful from an equity standpoint to provide college credits and allow students to test out of GE requirements not needed for their major," Jennifer Rand, the Learning Enrichment teacher at State High, said. However, the process to achieve well on AP exams is rigorous and stressful.
"What I did was study each unit one at a time and the last few days before the test I took a bunch of AP Practice Tests," junior Max Katsouros said. "For [AP Calculus BC] I'll study two or three sections each day and then do practice problems from the whole chapter." AP courses are often fast paced and include a lot of material. The AP curriculum is taught over the whole year, and anything from the units is fair game for the test. At State High, transportation is available by bus from the school to Penn State campus, where most exams are held, and students can walk or drive themselves back to school after morning tests. Exam scores are available through the College Board website in July, and in the wise words of Max Katsouros, "it's all a downward spiral from there."