Students Inducted into Exclusive Society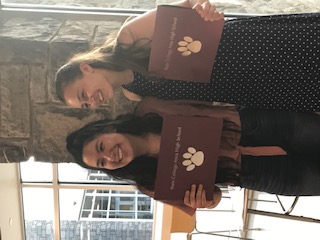 On May 2, 58 students gathered in the South Auditorium at State High for the local chapter's third annual National Honor Society induction ceremony. According to the NHS Constitution, NHS is an organization "to create enthusiasm for scholarship, to stimulate a desire to render service, to promote leadership, and to develop character in the students of secondary schools." Students must maintain a 3.75 GPA to be invited to apply to NHS, and only about a third of those who applied were accepted this year.
"Last year I didn't get into NHS so I worked really hard to get in this year and I felt very accomplished when I was accepted," junior Natalia Carrasco said. "I think I'm going into it for the right reasons and NHS will give me a bigger push to do more community service, which I really do enjoy." Carrasco participates in multiple extracurriculars at State High, such as Master Singers, French Club, NHS, and the Société Honoraire de Français. She also holds leadership positions (one of the four defining characteristics of NHS members) in French Club and Master Singers.
During the induction ceremony, speeches were given by NHS Advisors Jennifer Rand and Paul Brigman, as well as NHS co-Presidents Baron Cao and Roshni Raj. Mr. Brigman's speech replaced what had, in years past, been an administrative speech.
"This was the first year we have had co-Presidents, and Baron and Roshni did a very nice job of sharing the responsibilities of induction. This year we also added a second advisor, which made the second speech much more personal. They all gave tremendous speeches from the heart," NHS advisor Ms. Rand said.
In addition to the 58 new members, the new class of officers was inducted for the 2019-2020 school year, including Parliamentarian Anjelica Rubin, Secretary Iris Li, Treasurer Nick McNutt, Vice President Allaina Wagner, and co-Presidents William Newcomb and Ella Simpson.
"Due to everyone's hard work, we are able to accomplish insurmountable feats and impact many lives for the better," Newcomb said. "For next year, I can't wait to guide the club in the right direction and undertake even more service opportunities than in the past. I understand the major importance of the role of president, and I am ready [to] give my full effort to make the 2019-2020 school year the best that the NHS has seen." This may seem like a lofty goal, but the group of talented students that make up NHS is poised to make it a reality.