Album Review: 10th Anniversary of 21st Century Breakdown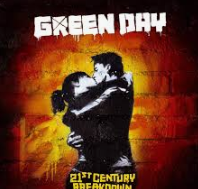 On May 15th, Green Day's 8th studio album 21st Century Breakdown will be celebrating its 10th anniversary. Whenever this album is referenced, it is often just a keynote, often just riding on the coattails of American Idiot and just before the trilogy albums, Uno!, Dos!, and Tres!. However, I believe that 21st Century Breakdown is by far one of the best Green Day albums to date. Sure, punk critics will point out how it sure veered towards the "pop-punk" label, but the layout of the album makes it a masterpiece.
Following suit of American Idiot, Green Day decided on another rock opera, this time with a three-act album. The first act, Heros and Cons, comprises of the Song of the Century, 21st Century Breakdown, Know Your Enemy, Viva la Gloria, Before the Lobotomy, Christian's Inferno, and Last Night of Earth. The second part, Charlatans and Saints comprises of East Jesus Nowhere, Peacemaker, Last of the American Girls, Murder City, Viva la Gloria (Little Girl), and Restless Heart Syndrome. The final part, Horseshoes, and Handgrenades comprises of Horseshoes and Handgrenades, The Static Age, 21 Guns, American Eulogy, and See the Light. In this album, the band steps outside of their nineties punk style and implements some new styles into the songs. In songs like Viva la Gloria, Restless Heart Syndrome, and Last Night on Earth, the piano is the main instrument used.
Similar to American Idiot, this album tells a story that unravels as the album progresses.  While there is some debate as to what the story means, the band has given some hints to what they were imagining as they wrote the album. The story follows two people, Christian and Gloria. The two characters have very different personalities, Christian being a bit of a nihilist, set in his ways with no hope in the world, while Gloria is an energetic activist with so much hope. Throughout the album, these two characters clash and create a beautiful story for the lister to follow.
In this album, it seems that Green Day wanted to continue their style that brought them success a few years earlier but also wanted to expand their range of possibilities to create music that hasn't been seen before. I believe that 21st Century Breakdown is their most underrated album because they decided to go a different path and create something that doesn't fit the mold that they developed. This album is a prime example of why artists often need to experiment with other styles of music because they create hidden gems that will shine in their career.