Policy 913.4: Changing the Fundraising Procedure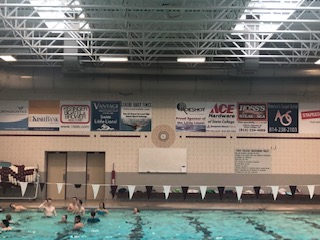 On March 11, the State College Area School Board passed Policy 913.4. Board Policies, unlike the procedures that guide day-to-day student actions, are broader rules and regulations that require interpretation and enforcement in each individual district school. While many policies have no effect on students directly, Policy 913.4 does. In fact, it discusses guidelines that impact the majority of the State High student body: those involved in extracurriculars, athletics, and clubs. Funding is a common issue, from an individual to district-wide level. The new Policy 913.4 discusses the use of advertisements and sponsorship as a source of revenue for groups, extracurriculars, and the district alike. "This policy provides the process by which non-traditional funding sources can be identified, permitting the district to increase opportunities for students," states the policy webpage.
Policy 913.4 is straightforward, listing the spaces that are allowed to display advertising permanently in contrast with temporary event spaces. However, the complication arises in dual-purpose spaces like the gym, auditorium, and natatorium, which serve both as classrooms and event spaces. "The board had a lot of discussion about what appropriate spaces were, and were very adamant about the classroom not being a place where advertising would take place, so as not to be a distraction," Randy Brown, State College Area School District Business Administrator, said. The natatorium is a prime example, displaying prominent advertisements from local businesses while hosting gym classes during the school day and swim meets and practices after school. "The advertising in the and the gymnasiums have been there for probably at least ten years. And I think it's because outside of the school day they attract a larger audience, and it's a natural venue where we can raise some advertising dollars to offset some of our other costs that we have in the district," said Brown.
The policy also establishes an evaluation process for all future advertisements the district, clubs, or individuals wish to display. Advertisements displayed prior to the creation of Policy 913.4, however, will not have to go through the same process. "We just didn't have that [advertising] policy, we didn't have one that limited it, so it wasn't disallowed or excluded. Now we have a policy that does allow for the advertising to happen in those spaces," added Brown.
For students hoping to display advertising for their club or group, or curious about the line between classroom spaces and extra-curricular and event spaces, the School Board can be contacted via the SCASD web page or Facebook. Students are also encouraged to attend bi-monthly School Board meeting at Panorama Village at 7:30 pm. The next school board meeting will be held on June 10, 2019.