Tyler the Creator Drops Highly Awaited Album, IGOR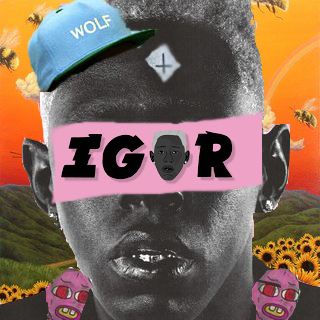 On May 17th, 2019, hip-hop artist Tyler the Creator dropped his fifth studio album, IGOR.  Written, produced, and arranged all by Tyler, the album topped the Billboard 200 chart. With a 39 minute run time and twelve emotionally charged tracks, IGOR fits perfectly into the puzzle that is Tyler the Creator.
The release of the album comes two years after Tyler's Flower Boy, which was made public in 2017. Many fans cite this album as the one that put Tyler the Creator on the map. "I've been listening to Tyler for quite a while, and the amount of people who know his name really skyrocketed once he released Flower Boy," freshman Elizabeth Songer said. Tyler had quite an act to follow up with IGOR, so to speak, and he did so in flying colors.
One of the most defining qualities of IGOR is the complete disregard for what constitutes a modern-day pop song. For example, on many of his tracks, Tyler chose to begin songs in the middle of a crescendo, as opposed to giving it time to build. He beautifully pieced together multiple tracks, adding the sweetened harmonies and over-synthesized keys from IGOR'S THEME to the haunting track of NEW MAGIC WAND. But Tyler's sense of continuity didn't end there.
As with most of his albums, IGOR had a common theme woven throughout it. Whether it be through song titles of I THINK [I'M FALLING IN LOVE] and [I AM YOUR] PUPPET or the melodramatic lyrics of "don't leave it's my fault, 'cause when it all comes crashing down I'll need you," the feelings of unrequited love and heartbreak are extremely prevalent on this album. Tyler the Creator poured his heart into the narrative of his relationship, from the opening butterflies in EARFQUAKE all the way to the bitter end in ARE WE STILL FRIENDS.
As for the fans? With an average 97% approval rate, it's safe to say that they're as in love with this album as Tyler is with his departed partner. Some fans have found themselves conflicted over the divergence off of Tyler's normal sound, one writing, "well it's definitely not rap!" This hadn't shocked anyone who had an ear to Tyler's social media; preceding the release of IGOR, Tyler made a long post explaining what NOT to expect with his fifth studio album. "Don't go into this expecting a rap album, in fact, don't go into it expecting any album,"  Tyler wrote.
Overall, the highly anticipated release of Tyler the Creator's album was definitely worth the wait. With another piece of the puzzle finished, twelve new songs, and an entirely new love story to become entranced by, he's left fans with songs in their heads, tears in their eyes, and excitement in their hearts to see what Tyler the Creator will bring us next.
"You never lived your truth, I'm just happy I lived in it, but I finally found peace, so peace."