From Uncertainty to Track Star: Conner Donghia
Some could say that Conner Donghia's future as a track star was inevitable due to the heavy influence sports have had on his family. 
Conner Donghia is a sophomore at State High, whose brother Grant Donghia also attended. Grant graduated from State High in 2017 and is currently attending Penn State University where his father is an assistant coach for the Wrestling team. He is also in charge of the stats for the Nittany Lions football team. If that doesn't seem like enough to influence Conner to have a love for sports, his aunt was also a babysitter of former NFL cornerback Brandon Flowers. Over the years, he has received signed merchandise by him from his aunt, who currently lives in Florida. "My influence for my love of sports came from both my family's athletic background and my energetic personality. I wanted to put that energy to good use," Donghia said. 
It didn't always seem like Conner was destined to be an athlete. When Connor was four days old, he had surgery because of complications with his heart. This didn't stop Donghia from becoming a multi-sport athlete for most of his life up to this point, playing baseball and basketball before committing all of his time to Track and Field when he got to 8th grade. "When I was old enough to understand, my dad was told that I cannot play any sport with a lot of physical contact like football or wrestling. That's part of the reason why I played baseball in 1st and 2nd grade and did track in 4th and 5th grade, winning the 200M in a track meet. I also played basketball for a few years, but over time, I fell out of love with it and realized that I liked running, so I stuck with that when I got to high school," Donghia said. 
However, sports do not completely define Conner. He is still your average teenager whose favorite food is pot roast and whose favorite hobbies are exercising, playing video games, traveling, and hanging out with his friends and family. He has two dogs named Sprinkles and Rio and even played trumpet for a few years from when he was an elementary student to the middle of his middle school career. Like he did with basketball, Conner lost interest in playing musical instruments over time. "The reason why I got over with playing trumpet was that a) it was very time-consuming, and b) I didn't have that much of an interest in that field. I only really did it because a majority of my friends did."
Although he has enjoyed doing track and field for a while now, Donghia has surprisingly mentioned that he does not plan on continuing his athletic and academic careers in college. "As much as I love to run, I am not going to continue in college. I want to do something that would benefit society more. Not that sports do not benefit society, but I want to do something more sophisticated by both my standards and those of my family."
About the Contributor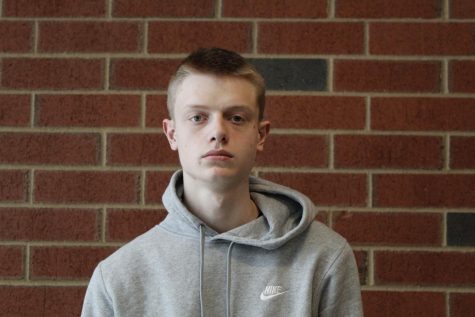 Michael Czekaj, Staff Writer
Hi. My name is Michael Czekaj. I am a sophomore at State High. In my free time, I enjoy watching basketball, football, and hockey, as well as spending...