Girls' Tennis Finishes 2019 Season 15-2
Hang on for a minute...we're trying to find some more stories you might like.
The 2019 State High Girls Tennis Teams' season came to an end this past week. The girls won their semi-finals district match against Hollidaysburg 3-0. The girls then played Altoona in the district finals at home but came up short of the title losing 0-3. It was a hard-fought match with several matches going into three sets. The girls finished their season with a 15-2 record.The season had many memorable moments. Rachel Buterbaugh, junior, recalls a favorite moment from the season. "My favorite moment from the season was the time our bus broke down, and we all just talked and laughed together as the sun started to set," Buterbaugh said. "Stressful moments like this one showed just how wonderful our team is."
Quiana Guo, freshman, also detailed her favorite part of the season. "My absolute favorite part of the season is probably away games because you get to travel, which means missing school, and even though you have to make it up, being able to get closer with the team helps a lot," Guo said. "The new friendships I have made this year are amazing and unforgettable because everyone is so nice and willing to help you when you need it."
It was Guo's first season being on the team. She described her experience being a newcomer to the team. "My first year was amazing," Guo said. "Mostly this season was amazing because I made a lot of new friends, I played tennis, which I really love doing, and because I thought I would be failing my classes, but it turns out that playing a sport is manageable with school."
It was Buterbaugh's second year on the team. "What I like about being a part of the tennis team was the balance of focusing on yourself as an individual, as well as being a helpful and beneficial member of the team," Buterbaugh said. Overall, it was a great season for the team with many unforgettable moments.

About the Photographer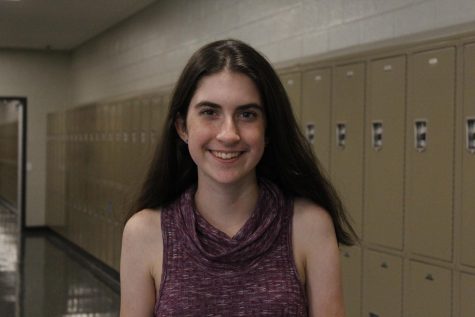 Abby Reed, Staff Writer
Hi! My name is Abby Reed and I am a sophomore at State High. I am taking Journalism because I like writing and photography. I am a very musical person....