Trunk-or-Treating gone Big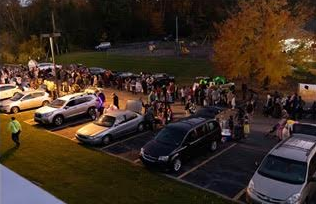 Picture when you were younger, that day you got to go to the store and pick out your costume for trick-or-treating on Halloween night and how when you found the one, you wanted to wear it out everywhere. You wanted everyone to see it. So many kids had that opportunity to wear their costumes before Halloween night this year, as they headed out to Trunk-or-Treat. Trunk-or-Treat took place on October 28th, 2019. It is an annual event at the State College Assembly of God and has been a part of State College Assembly Family for five years now and the one this year was the biggest one yet, ranking over 1,200 people in attendance. 
State College Assembly of God held Trunk-or-Treat on their own property and had the whole parking lot full of cars. There were so many cars that the church's field had to be used to fit as many as eight more rows of cars across. People were even informed that there was traffic backed up for at least a miles distance, just for Trunk-or-Treat.
The event itself had a great turnout. Cars participating in Trunk-or-Treat lined up in the parking lot and opened their trunks. Preparations for Trunk-or-Treat started months before, for it was going to take a lot of prep and participation to make it the best it's ever been! There was a car decorated as a farm, one for the Christmas season, another as Starbucks Pumpkin Spice drinks, and even one as a cat theme. Each theme came with so much imagination, wonder, effort, and of course, candy! Many kids came dressed up and ready to collect their loads of candy.
There weren't just cars to walk around, there were bounce houses, free food and drinks, a corn maze, and hayrides and pony rides around the grounds. On top of that, local police and firefighters showed up to increase the excitement of the event. The common facial expression that was shown on the kids and parents' faces was joy. Fellowship, candy, food, all of it impacted the mood of the night.
As the night was crisp and clear, it was indeed a spooky and fun night to do some trunk-or-treating. Next year, come on out and show State College Assembly your amazing costumes and enjoy some fellowship, as well as getting some free food. Enjoy the rest of this fall season and stay safe!