Subreddit Celebrity: Mr. Kimbro and His Freshman Fanclub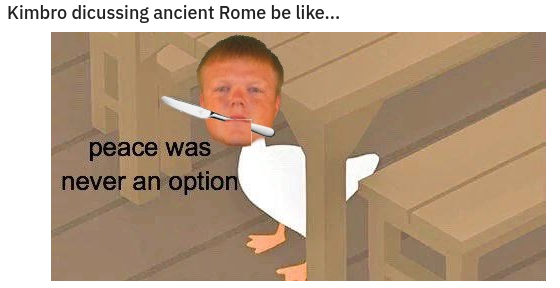 The man, the myth, the legend. It's rare to come across a figure iconic enough to warrant this qualifier. And yet, within the walls of State High, there is a man for whom no phrase has ever been more fitting. This man? Mr. Kimbro. A ninth-grade history teacher, Mr. Kimbro is the star of multiple student-made subreddits with names like "The Knights of Kimbro," "Our Lord and Savior Kimbro," and "but I thought Kimbro was god." 
Though the subreddits are unique to this year's freshman class, the mystique surrounding Mr. Kimbro is far from new. 
"I don't think [the Reddit] was a thing, but definitely at least within my grade, he was very much a meme. I think that was back when he was still pretty new to the school, so a lot of the older people didn't know him. I had a lot of friends who knew him from soccer, and they all had jokes and memes about Kimbro," senior Sarah Ambrose said. Over the last four years, the love of Kimbro has only grown, proving it was anything but temporary infatuation.
For Mr. Kimbro's part, he embraces the newfound subreddits. "I think it's all in good fun. I mean, all of the pictures on there are kind of just memes about stories or things that we've done in class. So, it shows that the kids are listening, paying attention, feeling engaged," said Kimbro. The teachers of State High seem to agree, with many incorporating memes in their presentations and lectures in an effort to appeal to students. 
Drais Parillo, a freshman and primary runner of the Mr. Kimbro subreddit, however, argues the opposite. "If anything it stops us from learning, but it's also a nice break from school." Though the educational value of memes might be overrated, Parillo brings up an interesting point. For many students, an opportunity to laugh during the school day can help relieve stress and improve relationships with teachers. Genuine humor and entertainment help students relate to the classroom as more than a place for clinical, detached absorption of knowledge, and teachers as more than a mere talking head. "I tell a lot of stories that are embarrassing about myself anyway, because it's always good to show that [teachers are] human. I think it's just a good connecting point with our classes," Kimbro said.
Though unwittingly, it seems that for Parillo, a connection has been made. Even while students are distracted by a million tests, rumors, and dreams of lunch and upcoming breaks, laughter is memorable, and helps students actively engage, if only for a moment. Although the stated purpose of the subreddit may not be educational, in making memes students are essentially taking notes, if in a nontraditional format. "If he tells fun stories we'll just, like, make memes about it," Parillo added. And if that story has an educational message weaved into it, then it is just an added bonus.